RADIO SHOW
Yes, you read that right, Silent Radio does have a radio show, and yes, we do get the irony of it.
Each week the playlist is made up of the news items on our website, plus the bands that are currently on tour and will be playing near us in Manchester that week. We also try to get some of them in on the show for interviews too.
Our show goes out live every Saturday between 5 and 7 on MCR.LIVE
Listen via Digital Radio – Online – Mobile
You can listen to all the previous shows again below, or via the App.
*****************
Silent Radio - 23rd December 2017 - Christmas Special - MCR Live Resident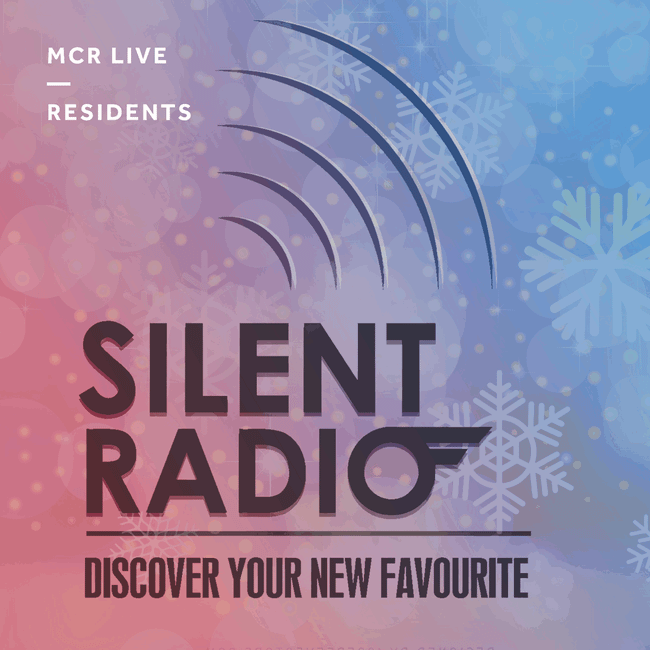 It's Christmas! For the fourth year running we're here to bring you a Silent Radio Christmas. Don't be expecting all the usual suspects, just like any other week we're here to help you discover your new favourite.
Festive cheer and 22 Christmas songs are brought to you this year by Vic and Simon.

The Silent Radio Show is live every Saturday from 5-7. Discover your new favourite.
www.SilentRadio.co.uk
TRACK LISTING
Los Campesinos!

- Kindle A Flame In Her Heart /

St Vincent

- Jesus Saves, I Spend /

Guster

- ¿Donde Esta Santa Claus? /

Slow Club

- Christmas TV /

Tele Novella

- Christmas Spirit /

Joe Innes & the Cavalcade

- Santa Says "Relax" /

Chris T-T

- The Headcold Bit Of The Winter /

The Rory McBrides

- (We Like) Eggnog! /

PINS

- Come On Home (It's Christmas) /

Frightened Rabbit

- It's Christmas So We'll Stop /

LA Wise Man

- All I Want For Christmas Is Rock & Roll /

The Werewandas

- I've Got A Great Big Christmas Tree /

Gaz Coombes and Adam Buxton

- I Believe In Father Christmas /

Frankie & The Heartstrings

- (Too Right) It's Christmas /

Casee Wilson

- We're Not Friends (Just Because It's Christmas) /

Still A Great Night

- Merry Christmas, Melania /

Nelson Can

- On Christmas Night /

Seazoo

- Happily Taking Advice From An Imaginary Sergeant Eddie Stone Late December /

Color TV

- This Christmas /

THYLA

- Christmas Wrapping /

Menace Beach

- Holidays Are Heavy /

The Flaming Lips

- A Change At Christmas (Say It Isn't So)