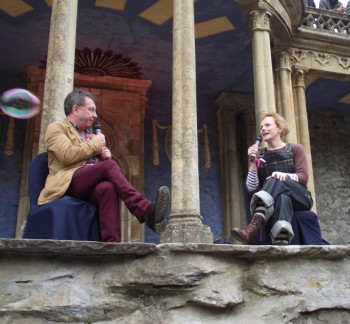 After a sleep of sorts it's a new day and the weather is holding out again as it did yesterday. First things first and it's time for breakfast then time for me to see what all this Portmeirion Village fuss is all about. From where we are camped it's maybe a three or four minute walk to the village and it doesn't take me long to see how mad this place is and why science fiction programs have used it as a backdrop. It really is as ace as everyone told me and my camera is just snapping away at all the little nooks and crannies as well as all the weird buildings.
It's one o'clock and on the Central Piazza we get comfy-ish on the stone steps as Stuart Maconie introduces comedian Simon Day to talk about his new book, only problem being he has forgot his book. This leaves him having to recall some of the stories of his life for our amusement. Tales of his bed wetting days and crazy friends he's met along the way certainly keep us all entertained for his thirty minute appearance.
Next up on the Central Piazza is Stuart Maconie in conversation with actress Maxine Peake, who is not just here this weekend to have a chat, but also to appear with The Eccentronic Research Council on the Alfresco Ballroom later on today. The Piazza is now full and when Maconie introduces his interviewee the crowd let out cheers and claps for what would seem to be one of the countries favourite talents.
The first revelation is that Maxine* wasn't really in the know about today's chat until a few minutes previous, never the less the talk gets under way with discussion of bad hair cuts and dungarees (the latter she wearing today), Bolton pubs, her days at RADA and also how at Salford Tech she was asked if she would like to pack in the arts after just a few weeks.
Everyone in the crowd is listening intently and from time to time when a North West town is mentioned it gets a cheer of approval. At the mention of Glossop one of these cheers goes up and Maxine asks if she can talk to the girls afterwards to try and work on her Glossop accent for her latest role.
We decide it's time for some music now so we head back to the main arena, but for some reason there seems to be a lull in the proceedings. There are no acts to be seen on any of the three stages, which is strange, as so far the way the acts have been staggered has been well organised. Instead of live music we opt for some more beer and a bite to eat.
Back down to the Piazza again and we catch the last few minutes of Stuart Maconie chatting with Grace Dent. We're stood right at the far end of the Piazza and the sound from the PA is struggling to make a connection, so all we can really do is look on as the two talk and giggle away whilst sat uncomfortably close.
Next up on the Piazza is Caitlin Moran with a discussion entitled 'How to be a woman'. Now I believe she has a book out that goes by the same name and strangely enough it's not on my 'to read' book list, in fact I don't even have such a list. It doesn't take long before I'm just staring around at the scenery and trying to ignore what is being discussed on stage, whether it's because I'm possibly a misogynist or maybe I find Moran a bit in your face, possibly it's a mixture of both, but it's not long before my feet are needing to lead me out of earshot.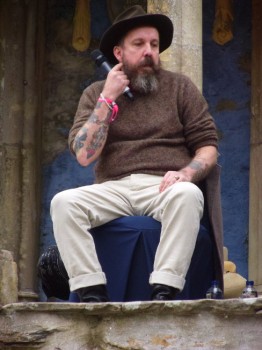 We don't move to far as next on the Portmeirion talk show is Andrew Weatherall. Now this guy is super cool, first of all because he's not a stereotype, I hate stereotypes. Secondly he's extremely humble and thirdly he just loves music. And not just the music you would expect, of course he loves Balearic and has a long history of playing dance music, but he also loves his fifties Rock 'n' Roll too, a lot.
Even though his interviewer Emma Warren is a pro at this game the interview feels very formulaic compared to the previous conversations that have taken place on the Piazza today, but throughout, the sheer interest of the tales and stories Weatherall shares are keeping everyone riveted. This really is a bloke you could just sit and listen to for hours, but unfortunately his time is up and he seems bemused at the thought that everyone here has enjoyed his every word.
It's now time for some music, but not any old music. We head back to the arena to the Alfresco Ballroom for The Eccentronic Research Council, a new act that is made up of the eccentric Adrian Flanagan (The Chanteuse & the Crippled Claw/Kings Have Long Arms) and Dean Honer (I Monster/All Seeing Eye). The recently released debut album 1612 Underture is a concept album all about the Pendle Witches with the lyrics spoken by Maxine Peake.
The stage is set and Flannigan has been faffing and knob twiddling for a while now, but eventually Honer joins him at the rear of the stage while two other girls in white gowns flank the stage behind their respective keyboards. As the retro electronic beat of Autobahn 666 kicks in Maxine appears on the stage in high collared long black frock with spell book in hand.
The set a live play through of the album, and on the week that the Radiophonic Workshop was officially re-opened it's great to hear old analogue synths being used to create new and exciting music.
The Alfresco Ballroom is now full inside and the crowd has extended out the back. With each new song Maxine seems to be enjoying her new role as frontwoman just as much as the crowd are welcoming her in this new role. In 'Another Witch Is Dead' Flannigan steps forward to join her in a duet. The charismatic pair are getting cheer after cheer from the crowd and Maxine even adds another string to her bow by briefly taking up keyboard duties before returning to centre stage with some maniacal laughter.
The last song of the set is 'Ghost Of Lizzy Southern Returns' which is dedicated to the memory of all the people in Hillsborough. The song is laden with lines such as 'curse rabid Cameron and the cuts to his vacation', 'curse the footballer's wage not the nurse who's underpaid' and 'curse the EDL Evils Dregs and Losers and that bulldog jowled glass eyed Terry Duckwoth lookalike Dick Griffin'. With each line professed the cheers of approval get louder and louder to the point where you almost expect chants of 'Peake for Prime Minister'. This first festival outing for The ERC is a resounding success and as we hang about people can be heard talking about how ace the set was, and right they are!
Time for a sit down, some food and another pint now me thinks. After this we catch some of Kindness' set on the istage. Frontman Adam Bainbridge is energetically bounding around the stage in his white suit and getting the crowd going with his funk and disco tinged sound.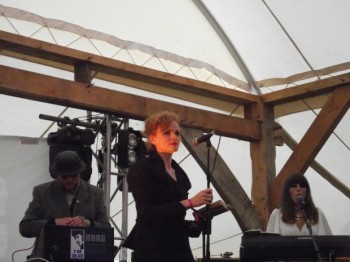 It's properly dark now and everyone's at the main stage for Primal Scream. We hang back to see what we already know we are going to see, a band playing all their hits with Bobby Gillespie striding back and forth while everyone enjoys their psychedelic/dance infected rock. It's more of what you would expect from a band that can still do what they did so well all those years ago.
We're still not completely ready to get our heads down just yet so we decide to spend a short while over in the Clough Williams stage tent to have a bit of a skank along to Jerry Dammers on the decks. He's an odd looking figure these days, but who gives a damn when he has such a cracking collection of ska and reggae 45s to share with us. Legs are tiring now so we call it a day and for the second night head back to our tilting tent.
Acts missed today… Gang Colours, Race Horses, King Krule, The Whip, Beth Jeans Houghton, Gold Panda, Summer Camp, King Kreosote.
Weird moment of the day: Asked "Are you going to London?" whilst stood outside the Castle by Libertine Carl Barat.
Sunday Review HERE
* the reason I refer to Maxine Peake throughout by her first name is that her nana doesn't like it when articles refer to her as Peake, so this is for her nana. Nana's rock!!