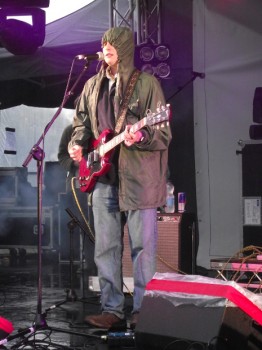 As we all know, all good things must come to an end, and not only is Sunday the last day for Festival No 6, but also the dry weather has decided to pack up a day early and head elsewhere. The rain isn't leathering it down, but it's enough to warrant that the waterproof coat and wellies make an appearance.
The festival site is pretty much set out into three areas. There's the village in the middle, the main arena/camping to one side and then on the other side is the woods. Now the first two areas we've been in and out of repeatedly and as my better half points out, for the reason of a full review of the festival we really need to check out the woods. "Great" I think to myself, it's the worst day of the weekend weather-wise and we now have to take this woodland walk, but as usual she's right and we do need to do this.
The woods are situated at the far end of the village and as we head past the last couple buildings the coastal path is now attracting a few gusts of wind too. The path then heads up into the trees and odd little things start to appear, such as tree stumps crammed full of coins hammered into them, a stone temple and a rather creepy dog cemetery. All these are constant features of Portmeirion, but as well as these, Festival No 6 has littered the woods with daytime raves and sound systems, small acoustics stages, tarot card readers, listening posts and pop up theatres. It would appear that the weather has affected a lot of these and we seem to be walking and walking and walking, and walking some more and occasionally passing other people who are looking as worn out and soggy as we are. It's even got to the point where the map my girlfriend is using to guide us through the woods has pretty much turned into a mush of papier-mâché in her hand and I start to wonder if I should have brought an SOS flare. Thankfully after what seems like an age I spy the whitewashed walls of some of the village buildings through the trees. I've seen enough trees for today and I'm ready for a brew and some scran. The shops and cafes of Portmeirion are all open as usual, although they are obviously a lot busier than your usual wet weekend in September. We find a cafe with some seats and get some lovely homemade soup with these little scones things; it's just what is needed after a healthy stroll/ramble/trek.
Fed and watered now we are hoping to catch Elbow's Guy Garvey having an onstage chat with Stuart Maconie, but because of the weather this has been moved into the town hall. We get to the town hall a fraction too late as the doors close and everyone is now being turned away. We decide to see what's going on back up in the main arena so make our way up back through the village.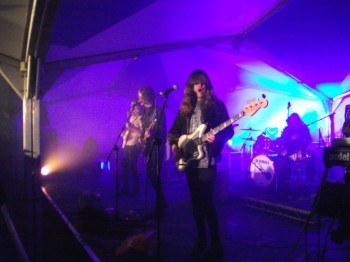 We hang about in the dry beer tent for a while and then venture out to catch The Wave Pictures. It's rumoured that the istage is going to be closed after their set due it being open air (which it doesn't). When we get there you can see why as most of the equipment is open to the elements and covered in gaffer taped plastic sheeting. The Wave Pictures are putting on a brave performance as you can see from the picture. By now the weather is really miserable, the rain isn't that heavy and the wind isn't of gale force proportions, but together they are making it hard to want to stay outdoors and as we walk around the arena it's almost like a ghost town. People are either in the beer tents or food places and many of the shops have closed down. Shops closing really doesn't help and the atmosphere seems to be as miserable as the weather. Jerry Dammers is DJing again in the Castle Gardens and this is a covered area, so there's nothing for it but to head over and listen to the sunny sounds of Jamaica while the rain pours down.
The wind and rain finally subside and we head down to catch Savages at the Estuary Stage. The whole band are putting their all into every note and lyric as they do at all their gigs and the heavy late seventies punky goth sound is in stark contrast to our surroundings. Next we head up to catch Tim Burgess, who again has been moved into the town hall. This time we manage to get in and my girlfriend gets a seat. I need to make a run back to our tent, so I leave her to enjoy the talk and him playing with a string quartet in the small and ornate building.
I manage to make it to the tent and back to see Toy whose recent album has been getting lots of radio airplay on BBC 6 Music. Once again this seems to be another band that have brought an extra helping 'heavy' with them for their festival set. Heads down and there's no nonsense, just an enjoyable onslaught of guitar and vocals.
Now it's time for something totally different, something I missed Friday night and also Saturday night, so missing the latter half of Toy's set has to be done I'm afraid. Back at the Central Piazza it's dark and cold, but the crowd is starting to swell. We get a good spot right at the top of the hill by the steps. We wait for a while and then all of a sudden there's a steady stream of black suited men walking down the steps and taking up their position. It's the Welsh Male Voice Choir and even before they have sung a word the hairs on the back of my neck are standing on end with anticipation.
They open with their rendition of New Order's Blue Monday and the whole of the crowd are deathly silent. It's a thing of beauty hearing this live and in these settings and when they sing 'You'll Never Walk Alone' in memory of those affected at Hillsborough I doubt there is dry eye in the audience. This isn't just some people watching some blokes singing, this really is an experience and one I will remember for a long long time to come.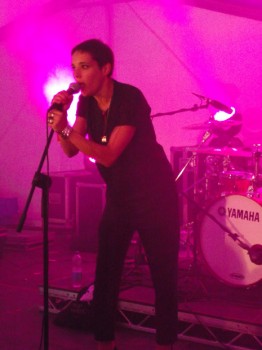 Today's weather seems to have made the day feel longer, but it's time for New Order on the main stage soon. Now I'm not a fan, I do 'get' what they did for music, but still, it doesn't mean I have to like their music. I would have been quite happy to give them a miss, but my girlfriend loves them, so we get a spot on the edge of the marquee with a full view of the stage. The band are all wearing blazers like the ones worn in the Prisoner TV show with Bernard Sumner also adorning the matching scarf.
The whole set is exactly what the crowd of fans want, all the hits and some great visuals on the three large video screens. Sumner's singing voice has improved since the last time I saw them live back at Reading Festival in 1993. A friend leans over and says to me "they seem to sound a bit happier" and I have to agree. We stay for the whole set and I didn't get half as bored as I expected I would.
There's still some great stuff going on elsewhere into the small hours but it's time to turn in and say goodnight to the festival.
Acts missed today: Greatwaves, Y Niwl, Field Music, Gruff Rhys, Dark Horses, Everything Everything, Aficionado, Don Letts, Francois K
If Festival No 6 continues in the same vein, it will quickly become everyone's festival No 1