– SOUP KITCHEN,  MANCHESTER –
Before the gig I repeat to myself 'Sex Swing, Sex Swing, Sex Swing' but what the frack does it mean, 'Sex Swing'? Sounds good though, the sex, the swing. Anyway, I don't remember if because I was looking for the band online or if I had had a brief epiphany that sex swing might actually mean something specific, that's when Google & Wikipedia came to my support. Here's what a sex swing is: 'a type of harness designed to allow sexual intercourse while a partner is suspended and the other moves freely.' Ah! I see. I mean, who wouldn't want to have sex with someone hanging from the ceiling? Wikipedia gives safety advice too: 'due to the shock and impact force caused by rapid deceleration when bouncing in a sex swing, even a well mounted hook can break free. It is important to use the spring included with the swing to reduce this impact force on the ceiling mount of free standing swing stand.' Ok, guys? Don't forget the spring in your sex swing.
Anyway. When I arrive, Breaking Colts are well into their set, so I only hear a few songs. I am welcomed by a drummeuse extraordinaire and a bass that makes even my thoughts bounce. These two ladies describe themselves 'Vibrators for the soul', for those who are not into Novocaine, and vibrate they do! An unusual lineup, only bass and drums, Breaking Colts do not need anything else. They have been presented as 'the loudest thing ever heard', but it is slightly misleading. Yes, they are loud, but not for loudness' sake. The looped patterns of singer and bassist Joanne Maylott on her distorted bass and of Lianne Steinberg's drums (also drummer in Warm Widow) perfectly complement each other, creating spectacular crescendos. Maylott's singing is more a spoken word performance, although words are sparse in the set. Sometimes her obsessive bass serves as a background for Steinberg's drumming pirouettes, which have left me ectastic tonight.
Breaking Colts and Sex Swing share an aesthetic made of medioeval images (executions by hanging, Satan and witches' sabbaths) and embody the concept of gothic in a way that makes more sense than 15cm rubber shoe platforms or 100 piercings around your bumhole. I don't think Mary Shelley and Bram Stoker had tattoos, and if they did, they did not show them off in paintings. The atmosphere is dark and tenebrous, but Maylott and Steinberg happily smile at each other while striking a terrorist attack on our hearing: gothic unposers. I definitely want to see them again soon.
It's 8.15pm and it's time for Groves. It's always time for the Mancunian Groves. I stress Mancunian because there are about five other bands called Groves and you should carefully distinguish between them, because these are the ones that will touch your perfect heart with their noise. It's a pity that Leonard Cohen hasn't written a song about Groves. YET.
I've been lucky enough to interview Groves and see them play quite a few times this year, and there is a reason if this number keeps growing. They express a unique blend of noise and hippie with a punk attitude and without feeling the need to conform to any of these traditions, neither musically nor aesthetically. I stuck the label of 'noise hippies' on them and they have merrily adopted it, because that's what they are, essentially. Breastfed in Yorkshire with Fugazi, Slint, Shellac, Nirvana, Cable, Pavement, Jesus Lizard, Sonic Youth and Bach, they reprocess this food in explosive performances preceded by vaguely new age sincretic rituals and always under the blessing of their portable totem Ooma Gooma, a little, probably feminine, wooden creature.
Ooma, with a burning incense stick placed on her head, is the first item placed in the stage setup by singer and guitarist Luca Corda. You may have guessed that Corda is an Italian surname: one side of the two brothers' family (Mattia Corda is the drummer) is originally from the donkey-populated lands of Sardinia. Band brother Richard Clarke (bass) appears in a long orange tunic for the soundcheck, while I get a glimpse of the brothers hugging backstage, something that tells you there's no macho shit in this band: all bromance and universal love. I can't deny that this sight moves me a bit. One of the main reasons I like seeing Groves live is that everybody leaves in a better mood after their gigs, guaranteed. Luca jumps on stage with a very elegant golden kaftan and his soundcheck consists mainly of a few screams of various entity. Mattia has opted for a semi-naked look, exhibiting his slender torso for the pleasure of the many bearded gentlemen in the audience.
Maybe because Groves are not surrounded by their usual supporting crew tonight, no pre-gig activities have been planned and the set is immediately focused on the music, which starts with a new song, 'A Cup On Every Hook', followed by 'Waiting' (from the album Tape, 2013) and the brand new single 'Able In A Hazelnut Shell', which marks quite a significant shift in the Groves sound and seems to be leading to a more guitar/singing-based approach.
The venue is suddenly filled with (an anachronistic cloud of) stage fog. The band can't see anything, nor can we, to the point that Luca Corda asks: 'Is there anybody?'. The unmistakable bassline and scream introduce 'Polygon Street' and then we are delighted to hear a slightly more guitar-embroidered version of the 2015 hit 'Frack The Shit Out Of It', followed by a still unnamed song about untangling knots, and then 'Bees'. I like the way Luca Corda, after he screams, bounces away from the microphone as if he's just got an electric shock from it. Mattia Corda's drumming is getting more and more eclectic and Clarke tonight delights and puzzles me with this new trick of laying the headstock of his bass on the amp for who-knows-what effect. You bass-playing ladies and gentlemen will understand. The Groves' energetic gig provides a bright diversity compared to the bands that precede and follow their set. The band is evolving in an interesting direction, and we should watch out for their new album, hopefully out soon.
It's 9 and Sex Swing rigorously respect the schedule. I have never seen this band live before and what I read about them has set astronomic expectations. Their merch desk does not sell sex swings – nor does their bandcamp page – which is disappointing. Neither do Breaking Colts sell vibrators. All smoke, no fire. The Sex Swing artwork features people hanging from trees and pink intestines. Nick Cave, Marylin Manson and certainly The Cure look like Hello Kitty in comparison, with their happy-go-lucky colourful imagery (ok, maybe not Nick Cave).
The tying-up/hanging theme also emerges in the band's previous name, Rope Hell. Who are they? Dan Chandler of Dethscalator (vocals, effects), Stuart Bell (drums, Dethscalator and Gin Palace), Tim Cedar (organ and effects, Part Chimp, Ligament, Penthouse), Colin Webster on what seems like a tenor saxophone (also of Dead Neanderthals), Jason Stoll (bass, of Mugstar, the John Peel-sponsored band that also played with Mudhoney). On stage tonight also a guitar player who might be Jodie Cox of Narrows, but I wouldn't bet my non-existent house on that, since his name is not listed among the band members anywhere.
The Quietus clearly has a musical crush on Dan Chandler, whom to the question by online magazine 9hz 'What are your lyrics about?' replied, in 2013, 'They're about formative sexual experiences and collecting Nazi memorabilia.' Nazi memorabilia? Are those lyrics autobiographical? Not clear. In the same interview, he recalls an entertaining anecdote about the drummer: 'Stu took too much acid and was frightened of his drums. That was pretty funny.' I agree, it's an amusing scene, Stu.
My expectations are partly met, partly not. The set, which lasts about 45 minutes and includes circa four long tracks, has a fantastic start. The combination of those instruments and Chandler's dramatic performance, combined with a remarkable energy from the whole band, creates a beautifully sombre atmosphere. Psychedelic indeed, the singing merges seamlessly with the rest of the music. Stuart Bell's indefatigable and robust drumming gives that flow a solid backbone while Webster's pleasantly disturbing dissonances complement perfectly the effects skilfully managed by Chandler and Tim Cedar.
We are transported into space through a track that joins a very loud bass to effects, organ and Webster's skewed notes. My earplugs are useless. Chandler's singing and performance is part state of trance, part – as observed by others – Ian Curtis (who has been living without human contact in the woods for decades, I would add). From his performing style, he seems to enjoy indulging in this Hannibal Lecter persona. In comparison with the recorded tracks available online, the band sounds much stronger live, although some lack of coordination on stage causes a false start.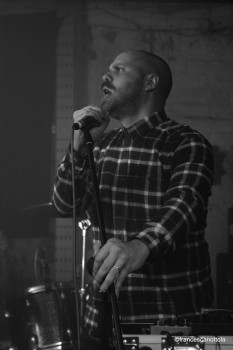 While in the beginning the EEG tracing of the performance is very lively, reflecting the audience's enthusiasm and curiosity, the show gradually sets on a intense but steady flow that leaves the small crowd (and perhaps the band too), eventually, slightly disengaged. A pity, because the immense quality of the musicians in front of us is obvious, and so is the potential outcome of this ensemble of instruments that has received so much praise from various sources.
The third track is dominated by Bell's alternation of epic cymbals and bass drum and an imposing bassline. It's impossible for me to decipher what Chandler's is dooming and glooming about, and our experience is aggravated by more fog in the room. This track is quite long and repetitive, so I welcome the following, and last, tune that features a bossanova background, a jazzier sax, the singer on effects and Cherub Rock/Placebo-styled drums. The band leaves the stage with the organ still set on 'bossanova'. Then we hear a sort of police siren. Wow, this siren effect is cool! Turns out it's an actual fire alarm that went off – guess why? – because of the bloody fog getting into an office, according to somebody outside.
To conclude: by sharing elaborate drumming, powerful bass playing, slow and hypnotic rhythms (for some), noise, distortion, dissonance and a determined melodyphobia, the three bands really are perfectly matched and create a consistent tension slightly hacked, perhaps, by Groves' fun-oriented attitude. Perhaps the Islington Mill, more receptive of experimental music and performances, would have been a more suitable context for this gig, and maybe the bands would have been able to create a more lively interaction with the crowd. A good gig, but leaving us looking for a better connection.
Sex Swing  Soundcloud | Facebook | Bandcamp
More photos by Francesca Nottola on the night here