We're a curious bunch here at Silent Radio and decided it was time to start scratching that itch, so we asked Mav Karlo – also known as Menno Vertseeg, founder of Royal Mountain Records – what his favourite piece of music making equipment is. This is what he told us:
What is it?
It's a 1952 Gibson ES-125.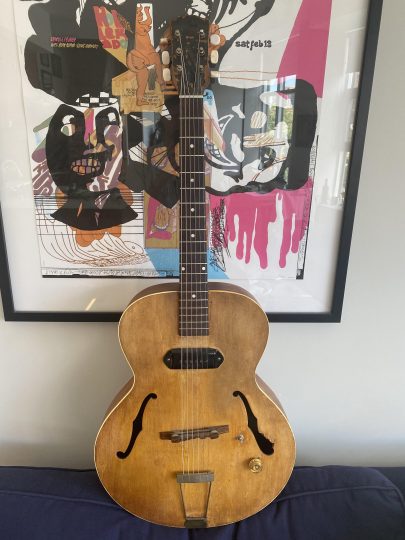 How long have you had it?
I bought it on tour in 2002. I had about $300 to my name at the time, and the punk band I was in had a day off in LA. We decided to go to that part of Sunset Blvd where all the used guitar shops used to be, so we could ogle guitars we couldn't afford. As we went in and out of the various shops, pretending to be people who could afford these guitars, I kept noticing a long haired man in sweatpants and no shirt carrying a guitar with no case, frantically going into the shops and coming out a few minutes later more anxious and determined. Finally, I went up to him and asked him if he was trying to sell the guitar. It was hung over his shoulder like a bindle, stripped of its finish and had no strings. He said "gimme two hundred and it's yours". I had $80 cash in my pocket from my cut of that week's merch cash. I looked at the headstock and noticed the serial number had been worn off from years of neglect (or 10 minutes with some sandpaper??). I said "you know as well as I do that none of these shops are buying this with no serial number on it", and handed him my $80. He didn't even hesitate.
My new guitar and I went into a few more shops to look around and a few of the people working looked at me and shook their heads with a chuckle. I was pretty pleased with myself. On the way back to the van I saw the guy, sitting cross legged against a dumpster down an alley shooting up. I'm still not sure how I feel about that transaction, but I do know I think about that guy more often than anyone else who ever sold me a guitar.
How does it help shape your sound?
It doesn't really, except that I write a lot of songs on it. It mostly stays at home right next to the couch, so it's often the first thing that I pick up when I have a new idea. In that way, I guess it really shapes my sound.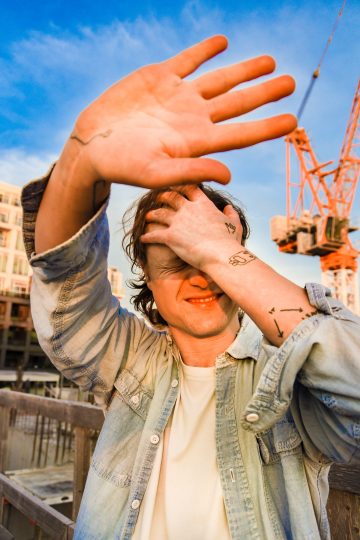 Do you use it live?
No – I feel like that guitar has seen plenty of the world before it came to me.
Do you use it in the studio?
On occasion – it really sounds like a plunky piece of wood, the P-90 pickup can be really sensitive and is prone to tantruming like a 4 year old when it doesn't get it's way. That can be great in the right situation though.
What can we hear it used on?
I wrote a few of the songs from 'Strangers Like Us' on it. Elevator, Detonator, maybe another one also.
Is there anything you dislike about it or would like to change?
Not a thing. It is what it is.
If the worst happened and it broke down, could you replace it?
I think unless it was smashed to actual smithereens, I'd try and get it glued back together. I feel like it's probably seen worse.
Any honourable mentions of other items that didn't make the top spot?
Most of my gear is pretty utilitarian, and I like it that way. I've had a half dozen guitars stolen from me over my years of touring, I like to think one of them is providing a story like this one for someone else.
Mav Karlo's album 'Strangers Like Us' will be released on 16th October, featuring at least two songs written on his 1952 Gibson ES-125. The video for his latest single to be taken from the album, 'Dig A Hole', was directed by Lulu Wei and you can watch it below.
 Mav Karlo Official | Twitter | Instagram