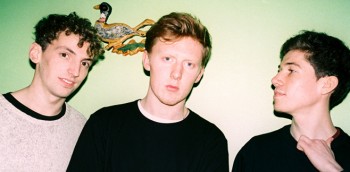 – ISLINGTON MILL, MANCHESTER – 
Islington Mill tends to be home to the more freaky, experimental end of the live music spectrum in Manchester, so this visit of London-based indie-electronic trio Vondelpark is a little against type. Their music is vibey and textured rather than intensive or otherworldly, but on this occasion the setting works a treat.
 Opening the night are Bloom, recent signings to the Salford label SWAYS. It's an unlikely support choice (ignoring the obvious local connection), but still an appetising way to set the mood. Most of the night's most dramatic mood shifts come in their brief set, confidently lurching from heady delta blues-based jams to chunky metallic 80's Robocop-style riffing and back again within single songs. There are shortcomings – I don't know if they're still on the hunt for a permanent vocalist, but if not, there's plenty of room for another instrumental psyche-blues band in Salford, based on the current guitarist's singing efforts. The nascent crowd are slow to warm to Bloom, perhaps not surprising, given the disparity between support and headliner, but by the time they leave the stage, the reception is warm.
 Vondelpark are, by appearance, rather meek. Their presence on stage is quiet, un-conversational, and sometimes even a little apologetic. It's a shame really, because the audience – also polite and well-mannered – seem eager to connect with them beyond the music. It's not a crime not to make this kind of connection (it's pretty common not to, really), but you are then relying entirely on the music to generate the atmosphere you're after, and that is bold.
 The moments that work best in this regard are tracks such as 'California Analog Dream', possibly the highlight of their debut album, 'Seabed', which saunters and lilts quite beautifully, without ever eventually bursting out. Their trademark sound is a sort of jangle electro, whose hypnotic effect is more likely to get your head nodding or swaying gently than have you dancing in the aisles. Towards the end of the night, the song 'Come On' provides possibly the gig's crowning moment, as the guitars (more prominent live than on record) and synths fuse together, and pulse and swell as one, building into a gorgeous gentle storm.
 There are deviations from the formula – for example, they show a willingness to engage with the UK bass scene, and incorporate it into their own sound more naturally than some of their contemporaries – say, The xx or James Blake – manage. And there is one moment at the start of 'Bananas (On My Biceps)' in which a definite whiff of the debauchery of Ibiza house breaks into the Islington Mill, and at last the crowd have a chance to express themselves. It's a relatively brief respite, understandably, given the records that Vondelpark have given us so far, but nonetheless it provides one of the brighter moments.
Ultimately, what you're left with is a evening of rich, moody music, focussed primarily on vibe and delicate rhythms than on tempo. If you're a major Vondelpark fan, you're likely to be more than pleased with what you got. If you're here for a good night, you may feel that the night never truly took off.