Times were tough for New Yorkers in 1971. Their city was dark, dirty and full of crime. Unemployment was high – gang members even higher.
Undernourished drug dealers dominated the streets, while bloated MOR rock dominated the charts.
As government officials tried to sort out the city's mean streets, someone or something needed to change its musical landscape. Thankfully, that change came in the form of five revolutionaries from the NY suburb of Queens – armed with loud guitars, killer high heels and an abundance of punk rock attitude.
Yes, you're right – it is true. Punk didn't start in London, England with Maclaren and the Sex Pistols. It started (and will end) with the New York Dolls.
Silent Radio's, Scott Zverblis caught up with ultra-cool guitarist, Sylvain Sylvain from the New York Dolls.
SZ: Take me back a little. What was the music scene like in New York when the New York Dolls started out?
SS:  To me, it was very mundane. You know, it was very stadium rock. Basically, we always had this little rascals approach to show business. Finding ourselves so bored that we decided to put on a show, and hence that's the New York Dolls.
SZ:  Did you have a sense you were doing something revolutionary?
SS: Yeah, I knew there was something about us. I mean, we were just exploring ourselves – what we wanted to hear, play, wear and talk about. The press and the audience were pretty complacent in showing that they dug us.
SZ: Prior to joining the New York Dolls, you ran a clothing company. Did you play a big part in the bands style?
SS: Well, I showed them how to get their stuff cut, but they all had their own style, and wanted their own thing. Johnny Thunders was probably the king of that. Me and Billy Murcia, the first Dolls drummer had a clothing company together in the late 60s, which we started in his mum's basement.
SZ: What was the company called?
It was called Truth and Soul. Actually, I met Malcolm Maclaren and Vivienne Westwood at a trade show in 1971. Their shop was called Let It Rock, which was all Teddy Boy influence or Rockabilly as it's called here. Back then, trade shows were done in hotels and they would take a couple of floors. Every company had a room with their name on the door. I saw Malcolm Maclaren outside his room that said Let It Rock and he was trying to drum up business and stuff.
We met Malcolm again in 1979, and worked with him for a couple of months until we broke up
SZ: With the benefit of hindsight, how do you look back on the New York Dolls?
SS: If I had to do it all again, I would probably do the same thing. I wouldn't change a note.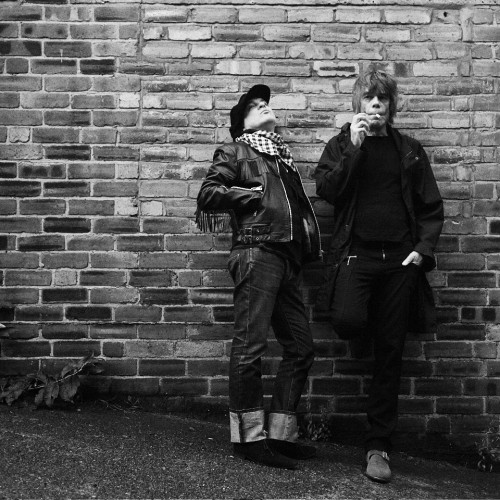 SZ: I've always loved the New York Dolls 'Lipstick' logo. How did that come about?
SS: The band used to huddle around a black & white TV set and watch old movies. We saw a movie called The Lipstick Killers, which is about a guy who does his business with these girls and then writes on their vanity mirror with their lipstick. The logo idea came from that. The first New York Dolls demos album was called The Lipstick Killers
SZ: You recorded your excellent new album, 'Walking Backwards In High Heels', in Newcastle. How was the whole recording experience? Was it a good place to be artistically?
SS: Actually, it was the perfect place to be, but in reality it wasn't that we were looking for that kind of sound or artist feeling – we just got the gig there.
It was amazing how quickly things escalated in becoming a record, rather than a glorified demo. It was kind of weird. For example the girls who sing backing vocals on the record were originally our caterers. One of the girls started to sing and Jason Hill our producer heard her and said 'Stephanie, are you a singer?' and she said yeah. So Jason invited her and a couple of her friends to sing backing vocals.
SZ: A very loose, let's see what happens approach to recording then?
SS: Yeah, it was. You know, it was a perfect storm coming together
SZ: NY Dolls singer, David Johansen, is a wonderful lyricist, one of the best.
SS: Yeah, what I love about David is the fact that he never forgets that he's a New Yorker, which you hear in his lyrics. He is very indigenous of where he grew up and that really pours out of his music. One of the songs on the new album, Funky But Chic, was written back in 1975 / 76 and appears on David's first solo album, which was released in 1978'.
SZ: So you dusted it off and gave it a makeover
SS: 'Yeah, we were like 'hey let's give a groove – let's see what happens'. I was a little hesitate to be honest with you, because it was so good the first time. It's hard not only to repeat, but to also do better, you know.
SZ: Seems like you're pleased with how the new album turned out
SS: 'Yes I am. To be honest with you, I rarely play my own stuff, but every now and then I'll play it to remind me on how to do it better next time.
SZ: I love your backing vocals on the new album
SS: Well, thank you! I did a lot of backing vocals – they finally opened it up for me.
SZ: So, what's next, do you think The Dolls will keep on going?
SS:  We have some good offers being handed to us right now, so we are thinking of what to do next, but we are definitely touring. We hope to god that a lot of people feel the same way about the new album as you do.
SZ:  film about the Dolls is way past due. Have you had any offers?
SS: There has been interest but no one has really come up with the goods so to speak. I think it's hopefully going to happen in the future. It will have to be done right.
The Dolls forthcoming UK tour includes a date at Manchester Club Academy on Tuesday March 29th. Tickets are available from Box Office: 0845 413 4444, www.alt-tickets.co.uk. For other dates visit: http://www.nydolls.org
The Dolls' new studio album "Dancing Backwards In High Heels" is released in the UK on Blast Records on Monday March 14th.