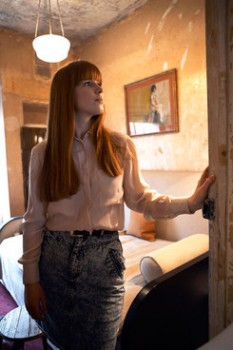 Metronomy are the electric pop band that's had us humming their catchy as fuck tune, 'The Look' for the best part of 2011. Like a musical version of Monty Python's 'The Funniest Joke in the World' (minus inevitable death), I double dares ya not to be belting out 'da, da, da, da, da, da, da, da, da, da, da' for hours/days after. Go on, dares ya
2011 might have been THE year for Metronomy, but these electro wonders have been tinkering with beeps and synths and shit since 1999. Legend has it, Joseph Mounts, the group's founding father, started mucking around with old computers as a little side project. One day an angel visited him and said "you should do this proper". Well, I made the last bit up as I don't know the ins and outs for certain.
Their latest album and third studio release The English Riviera, an utterly delightful slice of electronic pop pie, that saw them nominated for last year's über prestigious Mercury Music Prize.
This month Metronomy join the NME Tour, famed for buffering the career of many a rock and roll star. The band enter the ranks of such stellar tour alumni as The Arctic Monkey's, Florence and the Machine, Friendly Fires and Bloc Party.
Just before stepping on stage for their first gig of the tour, I grab drummer and fellow Yorkshire bird (high five) Anna Prior, for a quick girly chat. Covering such bases as boys, sequins and beards…..obviously. It's not all about the music y'know.
Vic: Wha'you up to?
Anna: Keeping out of the cold.
V:  This past year has been massive for you lot, check out the Mercury Nomination!
A:  The Mercury thing was such an incredible experience and we were honoured to be shortlisted. I hadn't been to an awards ceremony before and I had my own make-up artist and borrowed some expensive clothes and shoes I couldn't walk in from Vogue! It was such a wonderful night.
V:  I interviewed fellow nominee Ghostpoet last year, ahead of the night, he said, "I don't feel my album is the strongest one on there. I think Metronomy will win it." – How lovely is that?
A: We think very highly of Ghostpoet. We were lucky enough to have him support us on our UK tour last year and he was so lovely to us.
V: Is the dashing beardy man on 'The Look' cover art, our Joseph?
A: It certainly is.
V:  Who's got the best beard you've ever seen?
A: Our backline tech, Ben, has a wonderful beard. He's so young yet has great coverage.
V:  'The Look' is up for 'Best Dancefloor Filler' at this year's NME Awards. Past winners of that very accolade include Dizzee Rascal, La Roux and er The Wombats. How confident are you that it's all yours?
A: It's a catchy little ditty, so I am reasonably confident – but we're up against some bangers! Fingers crossed.
V:  I would have been a bit gutted not to have made the Sexiest Female shortlist….
A: I'm glad I didn't make it, to be honest!
V:  How important are winning awards to you guys?
A: We don't tend to think too much about awards. As long as people are still enjoying our music and coming to our shows, that means more to us.
V:  Were you the type of youngster to read the music press to find out what you should be listening to?
A: I used to read Kerrang! a lot – but I liked what I liked and wasn't easily swayed by the music press.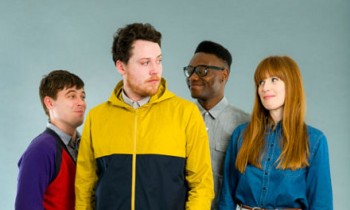 V:  You're touring most of February; how are you going to cope with all those smelly boys on tour?
A: February isn't really an exception to the year we've had of touring! The boys don't actually smell too bad. We've have a 3 gig rule on gig clothes. There have been a couple of occasions where this rule has been broken recently!
V: You hit Manchester shores this weekend. How's the city treated ya in the past?
A: I really like Manchester. Although, being a Yorkshire lass, I can't like it too much! All our shows in Manchester have been noticeably more fun than other shows we've played in the north.

V:  Tell me what folk can expect when they come see the band live…
A:   Sequins!
V:  Did you know you've been pigeon holed by some in this Wonky Pop* genre. How would you describe The Metronomy sound?
A:  Electronic Pop.
V: Metronomy have been around since 1999, almost 13 years is a lifetime in the music biz. Do you have any advice for young bands who are just getting on it?
A:  Keep at it, don't give up and never take youtube comments to heart.
V:  You've been playing with Metronomy for a few years now, how's it going?
A: Really well, thank you! I've played in a couple of bands [including Lightspeed Champion], before I joined Metronomy and I'm having the best time!
V:  So Anna, I want to know, who you reckon I've just got to go see. Your suggestions will dictate who I go speak to next, so a little bit of responsibility there, no pressure like.
A: I recommend that you see Django Django when they come to Manchester. I'm enjoying their new album very much.
Electronic pop covered in sequins? Yes please. . .
Metronomy play Manchester Academy, 10th & 11th February.
Other NME dates across the land this month are:
Weds 8th Glasgow O2 Academy
Thurs 9th Newcastle O2 Academy
Tues 14 Feb Nottingham Rock City
Wed 15 Feb Leeds O2 Academy
Fri 17 Feb Norwich UEA
Sat 18 Feb Birmingham O2 Academy
Sun 19 Feb Cardiff University
Mon 20 Feb Bristol O2 Academy
Wed 22 Feb Bournemouth O2 Academy
Thurs 23 Feb Brighton Dome
Sat 25 Feb London O2 Academy Brixton
Tickets and stuff here www.nme.com/awards/tour
* [Wonky Pop was a term used to describe a loose grouping of musical acts that played what the BBC called "quirky, catchy and credible pop", rooted in the eccentric side of 1980s pop music, which was briefly popular in the late 2000s. Acts described as being in this genre include Mika, Alphabeat and Frankmusik.]  Wikipedia. (6th January 2012). Wonky Pop. Available: http://en.wikipedia.org/wiki/Wonky_Pop