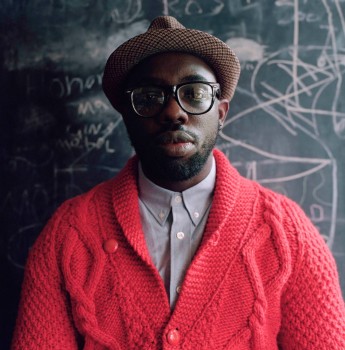 London–born Obaro Ejimiwe aka Ghostpoet is one of the freshest UK MC's to surface over the last year. Not content with flying the flag for the UK Hip Hop scene, Ghostpoet's softly spoken, casual vocals mix seamlessly with an experimental electronic edge; creatively knocking out vibes of trip-hop, dub-step and beyond.
Having received deserved kudos from the likes of The Guardian, NME and new music pioneers Rob Da Bank and Huw Stevens over at Radio1 for his debut album 'Peanut Butter Blues & Melancholy Jam'; he's only gone and got the ultimate accolade of being nominated for the prestigious Mercury Music Prize this year.
It's a breath of fresh air to hear that his recent good tidings haven't gone to his head, as I catch up with Mr Down to Earth himself, whilst he's at his local laundrette…
 *****************
Vic: Tell me about your festival circuit gigs this year, how many have you done?
Ghostpoet:I've done quite a few this year, too many to mention! I've done Glastonbury, The Big Chill, Great Escape, smaller ones, bigger ones, some in Europe…
V: Did you slum it in a tent?
GP: I did it once! The rest of the time I was fortunate enough to be transported by van and ended up staying in the van!
V: You've recently been described as "woozy brit-hop" by the Sunday Times, and Timeout said that you were an "an instantly loveable downbeat headworm."…
GP: (Laughs) very inventive words, I do really appreciate them all.
V: How would you describe your musical style?

GP: I would say a combination of electronica, experimentation, hip-hop and talking about stories of myself, people around me and things I see out of my window.
V: You're embarking on a UK tour this Autumn, what can people expect from your shows?
GP: I play the guitar for all my live shows, there's some live experimentation, it's an experimental process really, not too experimental, but manipulation of sounds to make it interesting; with high energy and passion. I love playing music and it's a pleasure for anyone to turn up and play to them, it's an enjoyable experience.
V: One of these dates is at the fantastic Deaf Institute in Manchester, one of the finest venues in town…
GP: I've heard good things about it; I've never played there before. I'm really looking forward to it. Loads of people have been saying 'Come up Manchester! Come up to Manchester', so it's going to be good to finally get up there.
V: What's you fave venue to play?
GP:I like the Scala in London, the Cockpit in Leeds is cool. There's a couple in Europe that I really like, there's an amazing one in Poland, it looked like a mini Roman coliseum, it was amazing. There's lots of interesting ones, but it's the people, as long as they are having fun, that's the most important thing.
V: As a little Ghost growing up, who's music saturated your ears, what was going on in the Ghost household?
GP: Little Ghost! (laughs) A combination of Afro beat, traditional African, West Indian music, Reggae, Calypso. Also, a mixture of stuff I heard on pirate radio; Jungle, Drum & Bass American hip-hop and UK garage and grime.
V: Has that influenced your current output?
GP: Partly. I listened to a lot of indie and electronica once I got to university, music is obviously important, it's definitely part of what I do. But also, its life's experiences, I get more from them, than the music I listen to.
V: What's on the Ghost playlist at the minute?
GP:A band called 'United Vibrations', they're an afro beat, funk jazz band from the UK, I've been listening to them a lot and a band called 'Tarwater'. I give everything a listen.
V: Is there a defining artist or album that changed the way you listened to music, that made you think, 'that's it, I want to be a musician'?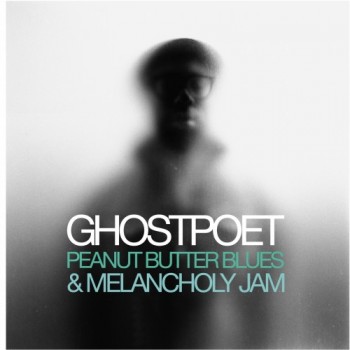 GP: Listening to early works from people like Roots Manuva and The Streets. Grime music really changed my outlook of things. The early UK driven music; be it grime, be it hip-hop, be it experimental music, that was looking inwards and not looking to America or any other country for inspiration, it was all music about the streets I walk down. Once I heard this, I really felt it at the pit of my stomach that this was really representative of what I was going through and where I was living.
V: 'Peanut Butter Blues & Melancholy Jam' is the name of your debut album. You sound like you were eating a really sad sandwich…..
GP: (laughs)
V: Where the bloody hell did that name come from?
GP: The name came from partly an analysis of the album once it was finished, trying to work out what it stood for me; not only what it was saying to me musically. It's not something I thought out before hand. The whole album is me making music and not thinking about the direction or any general 'anything'. There's a lot of melancholy, there's lots of ideas of being down and the blues. Hopes as well, hopes for the future. But definitely melancholy, so that was that aspect.
Then, it was trying to work out, what things in my life do I associate with those feelings? For me, I constantly eat when I'm not feeling great! I looked at it and thought 'what foods do I like?' and I like peanut butter and I like jam, so combine it all and there you go!
V: A lot of people don't eat when they're sad, I fill my face!
GP: I love to eat, not gorging myself but I like to eat!
V: Moving on to your fantastic nomination for Mercury Music prize, how chuffed were you when you heard you'd been nominated?
GP:Completely! It was completely out the blue and I never expected it in a million years, especially for my first album. It's amazing to be a part of it. The people who are on the list as well, it's amazing to be part of that group. It'll hopefully be a career boost for me.
V: How confident are you that you are going to nail it?
GP: I don't think I'm going to win it, it's not a problem, I don't feel my album is the strongest one on there. I think Metronomy will win it. Being nominated is enough; hopefully I can push on from that and do something with my career.
V: According to some it has been suggested that having an album nominated for or winning the Mercury Prize could be a curse on a career in music, how do you feel about that?
GP: I think it depends on what you do with it, it's been known as a curse. It's a case of all I can do, if I win it, is to keep doing what I'm doing and hopefully get success. I'm not sure about that though [the curse].
V: There are hundreds of up and coming young artists out there busting to be in your shoes…
GP: Well, I don't know about that!
V: Do you have any golden nuggets of advice to be the next big thing?
GP:  It's important to be yourself as much as possible, to find your uniqueness and putting emotion in your music. Be ready to work hard, the bigger you get the more work you've got to do. It's hard work, so enjoy the good times.
V: Big thanks for your time and best of luck for the Mercury
GP:  Thank you very much.
The new single 'Liiines' is out on Monday 5th September, with a rather lovely video directed by Nicholas Bentley (Two Door Cinema Club, Fenech–Soler)
Mr Ghost Poet's album 'Peanut Butter Blues & Melancholy Jam' is up for the 2011 Mercury Music Prize. BBC2 and BBC6 Music will broadcast live from the event on Tuesday 6th September.
On top of this, Ghost takes to the road late September and will play Manchester's Deaf Institute on the 9th of October (tickets/info). For all dates and more head over to http://www.ghostpoet.co.uk/