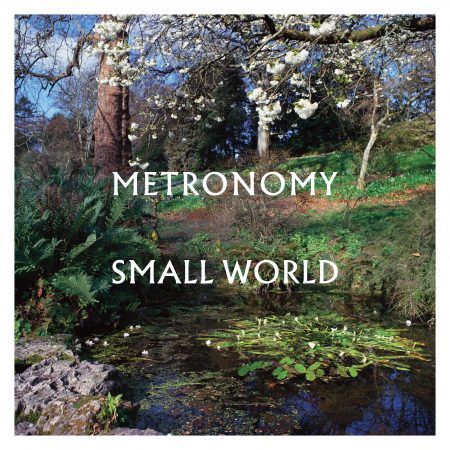 In 2011, Metronomy released 'The English Riviera' which stands as one of the 21st Century's landmark albums, blending Joseph Mount's earlier creative dance music with sophisticated pop in a loose concept album that reenvisaged Torquay as an elegant resort. Like Magnetic Fields after '69 Love Songs' or Sufjan Stevens with 'Illinois', the problem becomes how to follow such an immense, career-defining album. While subsequent releases have been good in isolation and have had peerless moments such as the title-track of 2014's 'Love Letters', there has been an inevitability that whenever I wanted to listen to Metronomy, I have returned to 'The English Rivieira'.
With 'Small World', Mount may have cracked it. It is his most definitively pop album of the past decade and with Metronomy, pop is indisputably a good thing. Despite the opening track's title, 'Life and Death', the album is a celebration of small details. It opens with elegiac piano, lo-fi automated gentle percussion before a glib acknowledgement: "It was fun, what I did/Got a job, had some kids/See you in the abyss."
The two songs that trailed the album, 'Things Will Be Fine' and 'It's Good To Be Back', share Mount's self-confessed enjoyment of platitudes which, by their nature, have an element of truth to them and can be applied to most situations. 'Things Will Be Fine' has an infectious chord progression and whereas repetition in songs often feels like it exists solely to drill the title into your head, here each reiteration increases the sense of unease that undercuts the bouncy tune. 'It's Good To Be Back' marries a synth squiggle to a definitive singalong chorus and dance in the kitchen element.
As a title, 'Loneliness on the Run' brings to mind Robert Forster's 'Songwriters on the Run', an unlikely bedfellow but both are linked by their roots in classic song-writing which mixes melancholy and optimism with superb melodic developments and surprises.
'Love Factory' is the lightest imaginable post-apocalyptic song in which the last couple on earth are trying to work out their strategy amid the suggestion that one of them doesn't survive.
"I can make a bandage
I can fix a splint
I can recall anything about everything I've seen
Let's get that leg seen to
Let's keep each other warm
Let's wait for this storm to pass
And head out at the crack of dawn"
That often-neglected charm of popular music, whistling, gets a revival in 'I Lost My Mind' blending with rich, increasingly emotional piano lines.
While 'Right On Time' suggests romantic failure, it also celebrates making the most of small pleasures "so for now, let's enjoy the sunshine" while the flourishing strings create the feeling of a summer smash hit.
'Hold Me Tonight' which opens with reverbing guitar is a duet with Dana Margolin from Porridge Radio whose phrasing recalls Robert Smith and contrasts well against Mount's vocals which while lacking the attributes of a conventionally strong voice is always moving.
The album closes with the organ-led 'I Have Seen Enough', Mount adopting a Jarvis Cocker type take on a Chanson croon speaking of the horror-show inability to look away while still doing the small things to make life better:
"We can pick the fruit in autumn
We can turn the ground in spring
And I'll watch another sunset by your side
And together we will sing"
With the exception of 'I Lost My Mind' and 'Love Factory' which both run to 5 minutes, all 7 other tracks weigh in between 3 and 4 minutes giving the album the economy of a vinyl release with not a second wasted. It makes for a magnificent pop album and, given a crystal ball, in 10 years-time it is likely that if any album is going to be cited as the pinnacle of Metronomy's career alongside 'The English Riviera', it will be 'Small World'.
Metronomy: Small World – Out 18th February 2022 (Because)