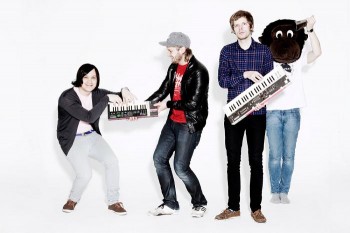 – THE DEAF INSTITUTE, MANCHESTER –
When a press release came through a few months ago saying that Casiokids were to play a handful of live dates in the UK, I was to say the least, rather giddy. But giddyness was short lived, as I glanced down the list of towns and cities to be visited by our Norwegian friends I found that Manchester was not included. The nearest was Liverpool, and unless driving or staying overnight, attending a gig that finishes at 11pm you can guarantee you will have to leave before it finishes to ensure you get the last train back home, and leaving a Casiokids gig early is for me a no-no.
Thankfully due to the release this month of Casiokids' debut UK album 'Aabenbaringen Over Aaskammen' on the Moshi Moshi label, another bunch of UK dates were released and this time round Manchester's Deaf Institute was to host the boys from Bergen on Norway.
Finally Friday is here and I'm stood at the downstairs bar getting a drink and wondering how many people will show for tonight's gig. I've been fortunate enough to see Casiokids twice before, the first time as part of a Clash Magazine showcase at The Ruby Lounge (review here) way back in 2009. On the bill that night were Manc favorites The Answering Machine, so needless to say the place was rather full. The second time I saw them was at Fac251 as part of 2010's Dot To Dot Festival, but only this time round the place wasn't too full at all, in fact it would best be described as sparse. I must add at this point that the second of these two gigs was amazing, nobody would have known that the band were only playing to a handful of onlookers.
As I take my place on the glass mezzanine slightly overlooking the stage area, I see that the stage is now being set for Casiokids. Anyone who has been to The Deaf Institute will know that although this is a great venue and an asset to Manchester's great live music scene, they will also have noticed that the high stage is not exactly the roomiest and most spacious compared to others. For your average band consisting of four members it can be quite a tight fit, so you can imagine that trying to get six places set up for tonight could be quite a task.
When Casiokids take up their places the venue is now as comfortably full as the stage is. Onstage is split into two rows of three, the front is shared by guitarist and two keyboard players, and to the rear, bass player, drummer, and a percussionist with a vast array of instruments to hand.
As the set gets under way we are treated to tracks from the latest album, plus many from 2010's 'Topp Stemning På Lokal Bar' which hasn't had an official UK release so far (you can buy it here though). I should take this opportunity to say to the uninitiated, that none of Casiokids songs are in English, all are sung in Norwegian.
Throughout songs the positions of the three frontmen are constantly swapped around and keyboard, guitar and vocal duties are shared.
Now from my vantage point above the stage and also the crowd, I notice something rather strange happening in the venue. The Deaf Institute is quite often filled to the brim with the bearded cool people of the city, and at most gigs, the said bearded cool people, can be seen nodding their heads, or on the odd occasion almost moving from the waste up in time the music, but tonight this is not to be, for Casiokids seem to have got almost everyone in attendance dancing. Some of you may find this hard to believe I know, but if you've ever seen Casiokids live you will know that the party is mainly on the stage and this is very, very infectious.
To end the show everything and everyone is bathed in millions of tiny red and green laser dots being emitted from the stage and as the band launch into 'Fot I Hose' the place is now ready for an ending to end all endings. At this point all six band members are swapping instruments and positions at an almost manic rate and this continues for around ten minutes or so as the acid house sounds and tribal drum beats build to almighty crescendo that sees two band members playing the drums, one of them stood aloft the bass drum and smacking the cymbals to within an inch of their lives.
I'm not sure who enjoyed tonight more, the crowd or the band, but I know that I'm worn out from just watching. Another great night from a great band, and who cares if I don't have clue what any of the songs are about, the music alone is enough to keep me wanting to see them again and again.