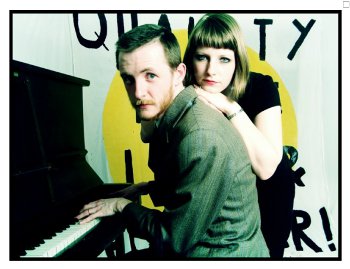 – THE DEAF INSTITUTE, MANCHESTER –
Cherry Ghost is the moniker of singer songwriter Simon Aldred. After doing the rounds in bands for a number of years he decided to go it solo in 2005. Listening to his latest album "Beneath this Burning Shoreline" comparisons to Stephen Fretwell and Ben Howard can be made. Cherry Ghost's music isn't over embellished with production so I wonder if an 'acoustic night' is going to be much of a departure from what's on the album.
Our line up for the evening is a generous serving of Heavenly Recordings label mates The Sundowners and Trevor Moss & Hannah Lou. Entering the speaker adorned walls of the upstairs room my gig mate and I are both feeling decidedly retro. We're greeted by two long haired folk singers. Heavily patterned floral blouses, multiple vocal harmonies and no less than three acoustic guitars embody the first support. The Sundowners show more than a heavy nod towards Janis Joplin and Fleetwood Mac, stylistically and musically. We don't just feel like we've gone back to 1967 but also shifted to a bar in California. Root beers necked and we're on to the next band.
Trevor Moss and Hannah Lou take to the stage. Right, I need to confess my acoustic phobia. (Erm ok read that as downright prejudice.) Subconsciously I arrived here with a foreboding niggle. It's a little niggle that takes root when anticipating an 'acoustic night.' Am I really reading that description as self conscious, vulnerable performance time? Girls and boys wearing nothing but guitars and hearts strapped to sleeves with emotions shifted to a downwards gear. Sometimes when I feel quite perky and upbeat about life an 'acoustic night' can be enough to change that for me. This evening I very much get to stand corrected on that.
Hooray for the joy it is to watch Trevor Moss and Hannah Lou in action. Immediately they're on stage and with us, the audience. There's no background murmuring chit chat from the crowd, as everyone is all eyes up front. One microphone and two mouths are firmly held in position, with two guitars angled to avoid injury. Wow. Deliciously pacey, intimate and witty with vocals so tight we're not sure if the boy or the girl is taking the falsetto lead. It's magic and completely blows my acoustic negativity out of the water. Their album 'Quality First, Last & Forever!' is out now. Go buy.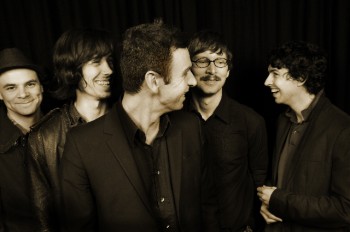 Next on, is the main event Cherry Ghost. From our jaunty mood I'm wondering where we're about to go. Mr Aldred stands out as the voice of experience. Deep, wistful and lyrically interesting, the audience are straight away on side.
"Be gentle with me its 4 years since I've done this kind of gig… It's a bit like standing in your underpants but a dam sight more pleasant for you." Ooo wolf whistles, the fans are in tonight. Cherry Ghost is a likeable and self deprecating chap, his charm brought out more so by the obvious nerves and willingness to get it bang on. About a third of the way through 'Kissing Strangers', he suddenly stops to change tuning. No one would have minded if he'd carried on.
The crowd are warm and receptive and there's definitely a loyal following in tonight as the words are sung out to 'Thirst for Romance'. A fair few songs in and we're introduced to additional band members on guitar and keyboard. The niggle is coming back though. Where are we going with the mood in here? Undoubtedly well crafted songs are played out but the rhythm, pace and themes are consistent. It's feeling like a gentle, melancholic wallow. So 'Hit Me Baby One More Time' would be slightly out of context but something unexpected would make a refreshing addition. The fans are happy mind. They're hanging on to his every word. Mr Cherry Ghost has a voice that is rich, intense and commands listening.
"I'm not going to do an encore because we all know what's happening." So these will really be the last two songs. The covers that follow are highlights of bluesy brilliance. (And incidentally two of my favourite Christmas songs) 'Blue Christmas' and 'Silent Night' suddenly plunge the room into Christmas karaoke mood. A little touch of heaven to round up an 'acoustic night.'