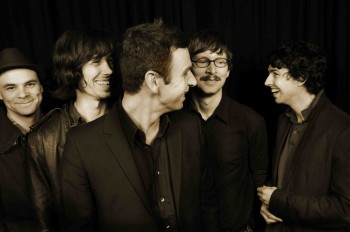 – MANCHESTER CATHEDRAL, MANCHESTER –
I love Cathedrals. I love their vastness and echoing potential for magnitude and sound. A reverence for something higher and benevolent. You've got to hand it our our own Manchester Cathedral for their welcome of the secular. This 1421 building appears regularly on our list of gigs to enjoy.
A week night, jaded from a long day, I could do with a tonic. Ever thankful for an alcohol licence, I stand with drink in hopeful expectation that Cherry Ghost, set in England's widest nave, will hand it to me. Simon Aldred's bitter sweet melodies and poetic lyrics should suit this backdrop. Herd Runners is Cherry Ghost's latest album and, he has said, the last. We get more guitar-based, lugubrious vocal tones but this time with a weave of synths and strings
He offers us his songs from all three albums this evening. Opening to his sold out crowd with my favourite track of all 'Drinking for 2' . A sombre melody, with deeper vocal erring on the husk of Tom Waits and high notes that radiate up to the vault.  I love its pure simplicity. Nothing standing between us and the lyrics. "The city sleeps, I walk the streets, alone again. And no-one hears the stifled tears, I duly shed. Just waiting on my boat to cross the blue, Drinking for two." Musically, this song is stark bollock naked. I am at once calmed.
This is in contrast to '4am', a highlight from the first album. An upbeat, foot tapping sound that breeds optimism and where his full band get involved: drummer, keyboards and synths.
By the time we get to 'Clear Skies Ever Closer' my mood has lifted. The crowd are even dancing which is an example of Simon's ability to write songs that meld sorrow and joy.
The Cathedral elders have not abandoned all religious decorum: "I've instructions from the venue not to swear".
He plays the twangy 'Sacramento' about an American unsung hero, against falling sunlight through the cathedral's lead-trimmed windows. He dials the mood down again for the beautiful 'My God Betrays', which is reminiscent of Nina Simone in lyrics and vocal.
The audience are not stuffy, not overly reverential. Manchester folk of all ages and fashions are gathered to enjoy one of their own decent songwriters and performers. His few hecklers are affectionate. "You're all extremely well turned out" he says "It's the church thing isn't it"
"Four Eyes" hosts two of my favourite lyrics "Now would be a good time to come clean about the waistline" and "Take your stockings off with your false teeth." A nod to his Bolton-bred sense of humour.
The crowd go wild for 'Thirst for Romance', the first track from the first album. Dancing resumes.
As he thanks the crowd for their support over the years, he ends with the critically acclaimed 'People Help the People'. There is a sense finality to this song. His last song; his last tour date; his last album perhaps; not however, the last of Aldred.
We like Simon Aldred, he's a gifted singer songwriter who isn't posing as the big ego in town. We might not see much more of him as Cherry Ghost but his song writing will continue to grace our British singers through writing collaborations with Lianne La Havas, Kwabs and Sam Smith. And that is only a good thing.
Cherry Ghost  Official | Facebook | Twitter | Soundcloud