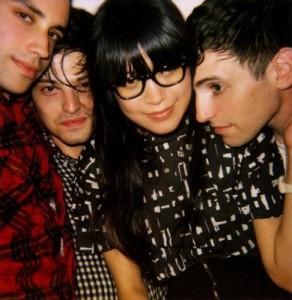 – ACADEMY 2, MANCHESTER –
Right kids, we've got a problem here – I may not objective about this band. And strictly speaking I'm not to blame. If you come together as five piece with four boys and one ridiculously attractive female, I will probably come to watch, but I,m going to be distracted. That not my fault, I'm only human and Peggy Wang is a goddess. She is also the odd one out, we can't hear vocals at all and the keyboards contribution really does make her seem like the token female. It's a shame because she looks happier and more animated than all of them and is, frankly, mesmerising.
Musically, 'The Pains' are an awesome and uniquely appealing provision. Thrash indie pop that's noisy but somehow still melodic and catchy: Rock n'pop.
But, they have a fatal flaw. The guys are all good looking nerdy types, and seemingly pretty reserved characters. Ordinarily, the shyness wouldn't be worthy of a mention, but the fact is it appears to directly affect the whole performance. They instantly bounce into action and move with a patent enthusiasm but no great energy, and vocalist Kip Berman hits us with his almost lethargic delivery. It's not really enough.
The songs are great and the buzz they've garnered so far (Academy 2 is virtually full) is justified. Hordes are no doubt drawn to both the music and the juxtaposition of his gentle vocals in a sharply defined contrast to most indie pop/rock bands. That's great for the album, but live it doesn't cut the mustard. It's underwhelming, and there isn't really much noise at all for the encore. It seems for a moment like it's not even going to happen. Then Peggy comes out laughing – presumably at the absurdity of it all – and off they go again.
There is a lot more pep about them now, with the crowd responding accordingly. But why wait till the end to get going? You couldn't miss the air of disappointment, and these guys need to up their performance if they're going to make the most of their obvious and significant talents.