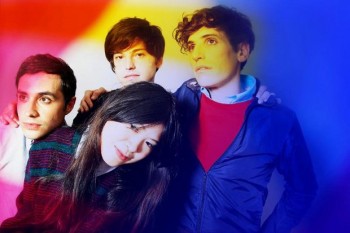 – THE RUBY LOUNGE, MANCHESTER –
The nights are drawing in, the students have taken control of the city, and we are back in the full swing of the live music season. Each night of the week, there is an exciting variety of bands and artists offering their services, and tonight a healthy number have been lured into The Ruby Lounge by the prospect of one of Brooklyn's leading lights, bubbling indie-popsters The Pains of Being Pure at Heart.
Before that though, Echo Lake are busy warming our cockles. The South London four-piece, with a full-length album under their belts, have a confidence that ploughs through the typical support band insecurities. They have a good line in Slowdive-informed dreamy noise-pop, not diluting their sound with the tired shoegazey wash that runs so rife in contemporary young bands, instead punctuating their set with stabs of sudden frustrated sonic attacks, driven by their new drummer, who replaced Pete Hayes, who tragically lost his life earlier this year. The band make an impact on the waiting crowd, and should really be headlining shows from here on.
It is an impressively populated crowd, if you consider that this visit is something of an inbetweener for The Pains Of Being Pure At Heart. Having released their second album, 'Belong', back in Spring 2011, and successfully toured the UK with it shortly afterwards, there is still no solid word on when we can expect LP number 3. Nevertheless, the fanbase is clearly robust enough to overcome the simple case of the lack of a product to promote.
They do make a somewhat pedestrian start, focusing primarily on the aforementioned sophomore record. It isn't until the feverish tingle of 'Heart in Your Heartbreak' kicks in that the band click into top gear and immediate rewards are forthcoming from their followers. Their trademark fuzzy purr has been slightly reinforced on this tour by the inclusion of Connor Hanwick, formerly of The Drums, but his searing guitar lines can at times seem to be playing entirely separately from the songs we know and love. Unsurprisingly, this is less of an issue on the three new tracks that they road test tonight, the best of which, 'Sure', promises to utilise this new-found hard edge elegantly.
There's no escape from the fact, though, that this set finds itself most exciting when the band focus on tracks from their superlative debut album. The band has a special bond with this city, a fact referenced by frontman Kip Berman when he mentions a semi-mythical performance that they gave after midnight at the Chorlton Irish Club in May 2009, a night Berman describes as "my favourite memory I've ever had."
'Come Saturday' and 'Young Adult Friction' whip the Ruby Lounge into a frothy frenzy , and you remember the magic of this band lies somewhere in the blend of Kip Berman and Peggy Wang's understated vocal styles. Before you can adjust to the new found electricity in the room, the band have left the stage. Apparently an hour has passed since they began, although I have my doubts. They do obligingly reappear to blister through 'A Teenager In Love' and a euphoric 'This Love Is Fucking Right!', a fitting release of energy and frustration that brings proceeding to an end. Not that The Ruby Lounge doesn't still spend the next 5 minutes screaming for another encore.