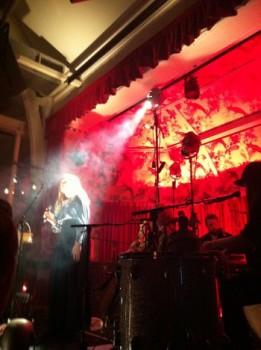 – THE DEAF INSTITUTE, MANCHESTER –
Norwegian folkstress Ane Brun is back in the UK to show-off her new album It all Starts With One. This is her forth studio-release, which has reached the top spot across Scandinavia, hooking up with the likes of Joe Gonzalez, Ron Sexsmith and Peter Gabriel on the way. Yeah, she's a pretty big deal in Norway; winning Grammies and what not. Tonight she's brought that stardom to the tiny stage at Manchester's Deaf Institute. This is a rare treat.
I first heard this pretty lady a few months ago, when I clicked on her face on Spotify's 'What's New' homepage, with the stunning Do you Remember. Although todays 'What's New' has Justin Beiber sandwiched between Susan Boyle. Ooo, you know what's going to be my soundtrack to the weekend.
The venue is packed-out. Ane begins an epic hour and a half set of beautifully arranged songs from across her discography. It's the first time I've seen the Deaf's stage dressed so charmingly; usually with these small gigs, it's all a bit low-key. Here we have a theatrical ensemble of stage lights dominating the tiny elevated platform, with naked light bulbs cascading up to the roof, twinkling off the biggest disco ball you ever did see. Squeezing in-between is a 3 man/ 2 woman band (including the mighty talented Linnea Olsson, who offered the support slot tonight), comprising of 2 drum-kits , an organ, keys, cello, accordion, another massive drum, shaky hand things….and a smoke machine
She's brought a huge Norwegian production to little old Manchester. Just watch some of the 'Live At Stockholm Concert Hall' vids on YouTube. She's imported everything, less the choir. This is going to be pretty special.
This is the first gig of her UK tour and in her own words, "I want this to set the standard". Ane begins the magical night by playing a mix of new tracks from It All Starts With One, topped up with a few tracks from her 2008 release Temporary Drive.
She sings Oh Love from the latest album and encourages a collective sing-along from the audience, who are only too willing to respond with deep hum of "I believe".
Everything about this gig has an air of antiquity, from the retro mic's to the vintage costumes. Ane herself looks like she's been plucked right out of the 19th Century American West. In this superb kitsch venue, the whole Ane Brun set-up just slots in perfectly.
Humming One of Your Songs is the only song tonight from Spending Time With Morgan, her debut album from 2002. Lady Ane is thrust into a solo spotlight, mesmerisngly swaying from side to side, whilst drummer 2 thumps a heavy, heart-beat steady rhythm. In between, drummer 1 does some nice intense breathing, as the stage lights pulsate on and off.
This is not just your usual 'plinkly-plonky', one woman and guitar singer-songwriter gig. This is folk on an elevated level. Setting in stone this elevated arsey sentence is the next song….
A scarce upbeat track from the latest album, Do You Remember is a collaboration with Swedish folkies 'First Aid Kit'. The stage gets lively with just the best sound of Ane's captivating voice, big band and incredible drum beats. It gets an amazing response from the crowd as Ane departs the stage and leaves the boys and girls at the back to play out an extended finale. The audience are now crazily begging for more.
After a short encore period, Ane heads back to the stage on her own, to shouts of requests.  She introduces a cover version "see if you can dance to this". On her lonesome, a guitar and spotlight, she belts out a fully stripped down version of Alphaville's 80's hit Big In Japan. In the words of Louis Walsh, "You've taken to the stage and made this song your own".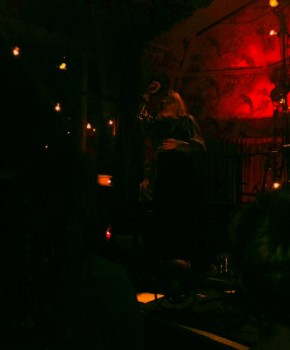 The band rejoin for The Light From One, a heavy hearted number with Ane singing like she means every fragile and poignant lyric.  She leaves the stage once again, and only the 2 drummers remain dominating the spotlight, to finish the track, well lapping up the attention from the crowd.
The final song on our journey of folk inspired wonderment is the grand Undertow, which takes us on a trip to the coast. With a cache of instruments mocking swishing and crashing waves, this sea-bound number is pure bliss to listen to. With massive thanks to the awesome "dream team" band.
The finale concludes and the cast take a theatrical bow.

Ane Brun puts on a very good show, so she does. With her expertly refined crafting of folky gorgeousness.  It's her captivating unique vocals that get me. 
I'm all over the Norwegians this year, what with The Captain and Me and now Ane.
With a slight anonymity outside of Scandinavia, expect to hear a LOT more of this lady over here.