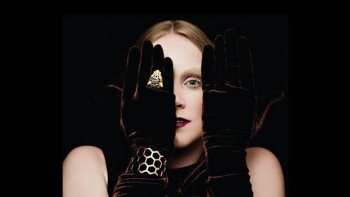 Norwegian born, Swedish based Ane Brun has covered Arcade Fire's classic song "Neighborhood #1 (Tunnels)". The track will be included on the iTunes deluxe version of the album of It All Starts With One, which has already gone platinum in Brun's native Norway. The UK release is April 23rd via Ane's own label, Balloon Ranger Records.
Speaking to Rolling Stone, Ane says:
"I've become a huge fan of Arcade Fire in the last couple of years," she says talking to Rolling Stone. "And this song in particular has been close to my heart. There is something so magical about the lyrics, and of course I love the melody. I've had my version as a sketched demo for quite a while, and I finally recorded it this winter."
Download her stripped down version for free from: HERE (right click & save as)
The cover of the single ties in nicely with the release of the deluxe album edition of It All Starts With One, which features re-workings of tracks by Anthony & The Johnsons 'Another World' and Built To Spill's 'I Would Hurt A Fly' (from 1997's seminal Perfect From Now On album) that sees the original's intense rock transformed into a heart-rending piano and cello lament.
Many of the additional songs are delicate, piano based compositions that showcase BRUN's remarkable voice at its most tender, including 'Dirty Windshield', 'One Last Try' first performed by BRUN alongside ABBA's Benny Andersson at 2009's environmentally themed No More Lullabies concert). Also present is 'Queen And King', recorded late at night at a studio party where friends – dubbed the Star Vox Ensemble – lift the song to the heavens with their gospel voices, and a deeply moving cover of Argentine folk legend Ariel Ramirez's 'Alfonsina Y El Mar', a song made famous by Mercedes Sosa that recalls Brun's early years busking in Barcelona. 'Take It Slow', meanwhile, is an intimate, folk-suffused slice of romance, and 'Du Gråter Så Store Tåra (English Version)' finds her backed by just an acoustic guitar. A Norwegian version is available on the digital release, as is a cover of 'Lamento Della Ninfa (Oh Love)', with English lyrics by BRUN.
Ane Brun and her band are set to play the following headline shows:
·        Dublin – Vicars Street – April 27th
·        London – Shepherd's Bush Empire – April 28th
Tickets are now on sale in advance at http://www.ticketmaster.co.uk and www.gigantic.com.
A deluxe edition of the 'It All Starts With One' with a bonus disc featuring original material and covers will be released in April 23rd.
Ane has also confirmed Isle of Wight's Bestival on 9 September – more dates to be announced soon!