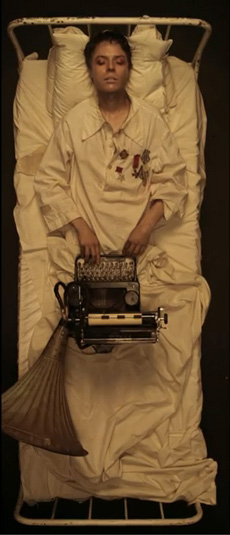 Norwegian songwriter, Ane Brun has released her new video for 'Words' this week, the prologue from a short film based to music from Ane Brun's album 'It All Starts With One'. The film that houses no fewer than four orchestrated songs will be premiered in 2012.
The Director for the whole project, Ane's long-standing video director Magnus Renfors, says of the venture:
"Ane's music is like a great ocean housed under the roof of a great old theatre, where pictures are hung from the threads of the music shooting out, so it really does the job itself. That said, the images require a certain height at a substantively dramatic level, otherwise the music, sometimes so sublime and skin tingling, can rush over the head of the visual aspects. Ane and I have done stuff together since 2003 and already on the last album we talked about doing something bigger, more coherent, and this time it was really the one. "
"ONE", as the film is called, is a poetic tapestry incorporating various threads interwoven on several levels, integrating and complimenting Ane's delicately composed branches between hope, rage and grief.
A heavy period of post-production is now rolling with the other chapters before the film is fully released in the fall. The film is produced by Hobby Film Stockholm in cooperation with, among others, Riviera Post Production and Ljud & Bildmedia, with the theatre giant Ivar Wiklander appearing as the main character.
Ane Brun will play live at Bestival on the Isle of White, September 7th