Each week, one of our contributors will recommend an artist/band they think deserves to be brought to your attention. No record labels, PR companies, bands or bands management will ever have made these recommendations. It is simply one music fan putting their taste on the line in the hope of sharing good music. The questions are intended to give just a basic introduction to possibly your new favourite artist/band.
So without further ado, let's crack on with this week's introduction, in which Silent Radio's Vic recommends Captain And Me for your audible delectation.  
*******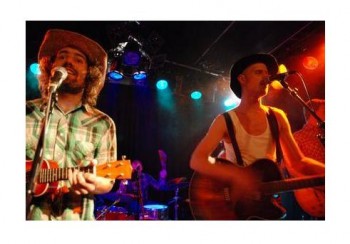 Who are ya?
We are Even Vaa and Morten Krane, founders of 9 man strong world pop band The Captain & Me.
Where are you from?
We are from Larvik and Oslo (respectively) in Norway.
How long have you been doing what you're doing now?
For about 6 years now. The Captain & Me started the summer of 2005 in Even's bedroom  recording studio.
Is being a musician your full time job?
No. Even works at a record shop, and composes music for film and advertisements. Morten is a computer programmer (and record company boss).
How would you explain your sound to someone's 90 year old grandmother?
Morten: Pop music with soft harmonies and traces of folk music. She probably wouldn't understand, though.
Even: Music with color. That she would understand.
Are there any obvious influences in your music?
Morten: On "Migrant", I would say that Midlake and Mariachi El Bronx are the most obvious. On the two previous records there are some quite obvious references to Goran Bregovic and Boban Markovic.
Even: Yes, I love Mariachi El Bronx. I will refuse to listen to The Bronx for as long as I live. Too much noise.
Crosby, Stills and Nash is a very obvious one. Noone does vocal harmonies better.
Are there any not so obvious influences in your music?
Morten: When writing the lyrics for "Migrant", I was very influenced by Dave Eggers, and his apparent decision that if he was to make a living writing novels, he might as well write novels that matter. The record is about a Nigerian economic refugee trying to make his way to Europe.
Sonically, we really tried to nail the sound from the mid-70's when recording the drums, so artists like Jackson Browne, Fleetwood Mac and Todd Rundgren were a big influence there.
Even: I work a lot with electronic music, and some of the tracks on our albums is originally pretty juicy and dancy electronic stuff made for something completely different.
Also, "Hope," the first track on "Migrant," is a tune inspired by a traditional song from The Salomon Islands. My brother, who is a linguist, had been there on a field study just before we started the recordings. He had recorded some songs with his portable recorder which really blew me away. One of the songs was so amazing that we just had to borrow some of it.
Apart from yourself of course, what other band/artist would you recommend our readers check out?
Morten: Even tipped me some months ago about Brett Dennen, and his album Loverboy. This was as I was raving about The Belle Brigade to him.
Even: I am really into Salif Keita right now.
Best place for people to find out what you are up to?
http://www.facebook.com/thecaptainandme
http://www.myspace.com/thecaptainandme
Anything to declare?
Morten: I declare the 1994 winter Olympic games opened.
'Reach Agadez' (being streamed) is from our latest album ("Migrant"). We chose this track partly because it suddenly became strangely relevant, when that Libyan military convoy escaped Libya, and reached Agadez as their first destination. Our guy is travelling in the opposite direction, but still.
To listen to more tracks hit 'The Captain & Me' on Spotify