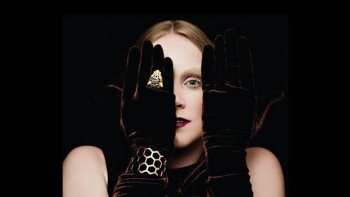 Norwegian born, Swedish based Ane Brun releases the second single 'Worship' from her recent, highly acclaimed album 'It All Starts With One' on April 2nd 2012.
Worship is a duet with her fellow Gothenburg resident, José González, and is without a doubt one of the highlights of a record that has already reaped rewards across the globe, including a Norwegian Grammy (a 'Spellemann Prisen') for Best Female Artist – the second time she's picked up the award – and a Manifest Award (Sweden's independent equivalent to the Grammies). The album has already gone platinum in Sweden, and Brun has in addition been shortlisted for the 2012 Nordic Music Prize.
The track is accompanied by a new video made by Magnus Renfors. The second video release, Worship represents the final chapter of the short film ONE, which is based on four songs from It All Starts With One, beginning with the first single from the album, 'Do You Remember'. The film was premiered at the Gothenburg International Film Festival in January this year and is "an apocalyptical musical in four acts about a murder committed in the form of a show where everyone except the main character knows the ending…"
The Director for the whole project, Ane's long-standing video director Magnus Renfors, says of the venture:
"Ane's music is like a great ocean housed under the roof of a great old theatre, where pictures are hung from the threads of the music shooting out, so it really does the job itself. That said, the images require a certain height at a substantively dramatic level, otherwise the music, sometimes so sublime and skin tingling, can rush over the head of the visual aspects. Ane and I have done stuff together since 2003 and already on the last album we talked about doing something bigger, more coherent, and this time it was really the one. "

ONE, as the film is called, is a poetic tapestry incorporating various threads interwoven on several levels, integrating and complimenting Ane's delicately composed branches between hope, rage and grief.
The film is produced by Hobby Film Stockholm in cooperation with, among others, Riviera Post Production and Sound & Image Media, with the theatre giant Ivar Wiklander appearing as the main character.
Ane Brun and her band are set to play the following headline shows:
Dublin – Vicars Street – April 27th
London – Shepherd's Bush Empire – April 28th
Tickets are now on sale in advance at http://www.ticketmaster.co.uk and www.gigantic.com.
Ane has also confirmed Isle of Wright's Bestival on 9 September and the WOMAD festival.
A deluxe edition of the 'It All Starts With One' with a bonus disc featuring original material and covers will be released in April 23rd.