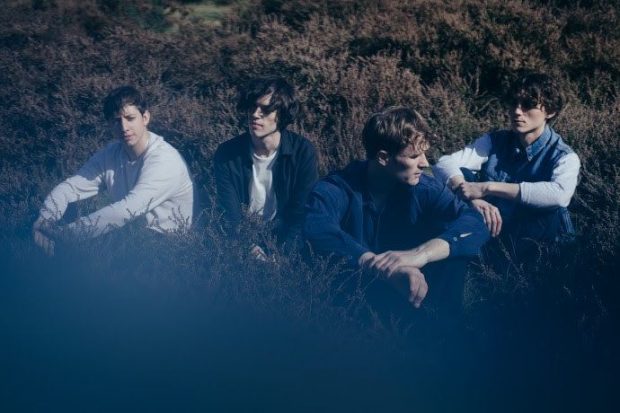 Bringing their spectral indie pop to a local music haunt near you this Autumn – GENGAHR – announce their return to the live stage with a slew of intimate UK shows.
Looming from the shadows with a clutch of new songs, the four piece will be previewing new material penned for their highly anticipated follow-up album at some of the country's finest small venues on this new run of dates.
Gengahr will kick off proceedings at Sheffield's Bungalow & Bears on 16th November and wind up at Manchester's The Deaf Institute on the 8th December, stopping off at a total of 19 town and cities in-between (for full dates and details see below).
With only sparse live appearances dotted throughout summer to note, the North London band have spent the latter part of 2016 with their heads down and focused on writing album #2.
As vocalist Felix Bushe from Gengahr reveals:
"Since touring the UK last year we've been writing and recording our next album. We've broken things up a little by performing at a few festivals and touring Europe with Wolf Alice but by and large we've been focused on making LP 2."
Whilst the the release date of the new album still very much to-be-confirmed, the forthcoming shows will offer a tantalising first taste of the new material to come.
Giving insight into what to expect from forthcoming shows Felix adds:
"After finishing the record we wanted to get out on the road and start to get our heads around the new songs as soon as possible and begin to get our heads around the new songs and see how they translate live. It's also going to be a great opportunity to play in some of the cities we didn't make it out to last year. A lot of these shows are going to be in fairly intimate settings so we are going to take this opportunity to give a glimpse at what's to come next from us. We will playing a lot of new material at these shows and we are very excited to see how everyone will react!"
GENGAHR 2017 UK TOUR
16/11/16 – Sheffield – Bungalows and Bears
17/11/16 – Liverpool – Buyers Club
18/11/16 – Nottingham – The Bodega
19/11/16 – Bedford – Bedford Esquires
21/11/16 – Brighton – The Green Door Store
23/11/16 – Bristol – The Louisiana
24/11/16 – Ramsgate – Ramsgate Music Hall
25/11/16 – London – The Courtyard
26/11/16 – Guildford – The Boileroom
27/11/16 – Reading – The Purple Turtle
28/11/16 – Stoke – Sugarmill
29/11/16 – Hull – Adelphi
30/11/16 – Leeds – A Nation Of Shopkeepers
01/12/16 – Middlesbrough – Westgarth Social Club
03/12/16 – Newcastle – Jumping Jacks
04/12/16 – Aberdeen – Cafe Drummond
05/12/16 – Edinburgh – Sneaky Pete's
06/12/16 – Glasgow – Nice N' Sleazy
08/12/16 – Manchester – Deaf Institute – TICKETS
Gengahr Official | Facebook | Twitter | Soundcloud