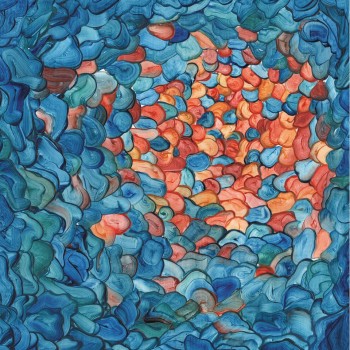 Gengahr have trapped a little nugget of sunshine. A Dream Outside is music perfectly paired with a healthy dose of vitamin D. It percolates your inner ear and clouds your vision and poof: you're at a sunny festival, on a grassy knoll overlooking satellite stage. It gives you that midway-through-my-fourth-warm-can buzz.
Although there are plenty of bright colours – in the main the psych is painted with a light brush – underneath that glaze it's regularly indebted to 90s fuzz-pop and 90s alt-rock. Dinosaur Jr. is an obvious touchstone but so is Radiohead: there is more than a taste of Pablo Honey on tracks like 'Where I Lie', 'Heroine' and 'Powder'. On those tracks the gossamer thin, almost ethereal vocal contrasts with a thick fog of fuzz, but every track has a hook, a riff, or a beat to make you sway. There's just something in the Gengahr DNA that makes every track a floating earworm, hazily catchy.
There is a macabre gloom in the lyrics however. The album references vampires, sirens, angels and witches in a threatening, fantasy tapestry; Bushe's voice has the loosest grip on reality. And although the lyrics are laden with metaphor, they aren't with self-importance: on 'She's a Witch' he opens by delicately quipping, 'They're coming to get you /it's a good thing I've been working out'. Throughout, the bassline spins you round and the drums move your feet and those crooning troubles suddenly seem far removed. The result is tracks like 'Fill My Gums With Blood', a funky ballad about a lovestruck vampire. It manages to be direct and obtuse, out there and familiar through its articulate songwriting, giving the album a playful, wistful character
The walls have been warping plenty recently. It's been a banner twelve months for psych. Foxygen, Toro Y Moi, Tame Impala, Stealing Sheep, Pond and others have meant weirdness has been seeping through cracks all year. But in the shape of Gengahr you get the impression it could seep into the mainstream. Throughout, A Dream Outside displays nothing but great pop songwriting, with just enough visuals to keep busy minds entertained.
I'm excited, but I get the impression there's a small something missing. Gengahr perhaps aren't the finished article. The album as a whole does slip through your fingers just a little easily, lacking the kind of showstoppers of the above. But its sepia charm does work its magic over multiple listens, and every track seems to have an identity and purpose. No one track comes in, muddles through, and muddles out. Tracks in fact regularly come in lackadaisically enough, but get wound tight over the course of a radio-friendly three minutes and spit you out at the end humming hooks. 'Dizzy Ghosts' is a bushwhacking opener, ready to be hollered from massed throats in a Somerset field. 'Embers' has the chaotic power of a slowly derailing train. 'She's a Witch' is a psychedelic rump-shaker. 'Lonely as a Shark' has echoes of The Beach Boys, while 'Dark Star' sounds like the contemplative Arctic Monkeys of Humbug.
And all these soundalikes are no criticism of the band. It's a début album with all the ingredients for a glittering career to come: they might just be the latest link in an illustrious chain, and certainly add enough spice to the mix to call it their own. Guitar music never needed saving, but this might just turn out to be a big summer for Gengahr.
Release Date 15/06/2015 (Transgressive)
Gengahr Official | Facebook | Twitter | Soundcloud