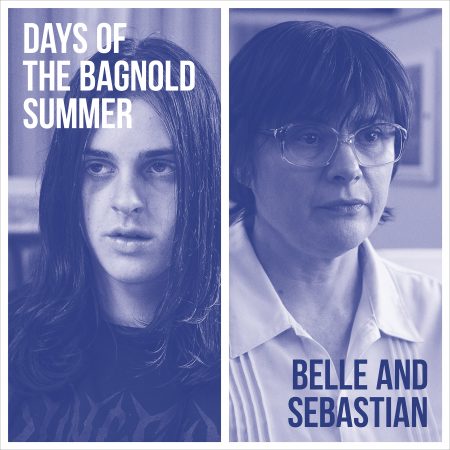 Having recently performed in a cruise ship as part of their 'Boaty Weekender' festival, the ever evolving Scots band release their second film soundtrack album. Sadly I didn't take the indie rock n' roll cruise, but apparently there were people there for the bands (Belle and Sebastian, Teenage Fanclub and tons more) plus bizarrely enough, a lot of random tourists who were there just for the cruise around the Mediterranean, and who had no idea who Belle and Sebastian, or any of the other bands walking around on deck were!  The bands mingled with the tourists and fans alike, and that kind of complete unpretentiousness is why Belle and Sebastian were the perfect musical partners to bring this film to life musically.
'Days Of The Bagnold Summer' is their second soundtrack, the first being 'Storytelling' in 2001, and, from the film trailer that I've seen, the plotline couldn't be more Belle and Sebastian-esque if it tried, teenage angst in the form of a metal fan, (played by Earl Cave, Nick Cave's son) his single mother, and the trials and triumphs they encounter. Belle and Sebastian sound tracking a film about a metal head may seem a bizarre combination but if there's any band that can soundtrack the awkwardness of youth and make the everyday dramas compelling, it's Belle and Sebastian.
Soundtracks to films always obviously have to do their main job, provide a musical dimension to enhance the storyline and characters in some way, and it's often hard to appreciate them as an album on their own, but there's plenty of their classic gentle melodies such as the soothing 'Did The Day Go Just Like You Wanted' 'and 'Safety Valve' with its soft sweeping violins, which are more than capable of standing on their own as Bell and Sebastian tunes.
Nowadays there's so many nonsense terms that crop up online when trying to describe Belle and Sebastian, I mean, who invented the term 'mumblecore'! Yes they're not blasting out AC/DC style riffs but on tracks like 'Sister Buddha' they do rock out, albeit in a subtle way, and yes the album in its entirety isn't their most fast paced work, but it doesn't need to be, as it works as both a gentler addition to the Belle and Sebastian catalogue whilst also providing a great musical narrative within the film.
It's one of Belle and Sebastian's more tender albums, but one that still packs a punch emotionally, which should still please the Belle and Seb faithful, and may even convert those random Boaty Weekender cruisers! Although they're probably all off on an Idles, Black Midi and King Gizzard package around the Caribbean next.
Belle and Sebastian: Days Of The Bagnold Summer – Out Now (Matador Records)