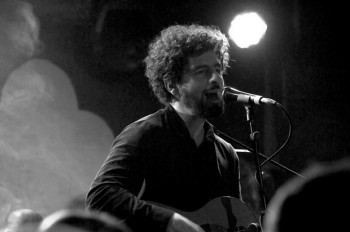 – SOUNDCONTROL, MANCHESTER –
If a song is strong enough, it can stand alone without the need for excessive production. José González has proved that point already, so the danger now is, will his songwriting become swamped with the addition of 4 other band members?
José shot to fame by providing the soundtrack to a classic TV advert. His stripped down cover of The Knife's Heartbeat accompanied images of coloured balls bouncing down a San Francisco street. A couple of successful solo albums, using just his voice and his acoustic guitar, made him an international success, and now he returns with a few friends as Junip.
Barbarossa supports, the rather fragile and hippy looking frontman James Mathe sings insecure lyrics with a light voice, reminiscent of Jason Swinscoe from the last Cinematic Orchestra album Ma Fleur. Two of the three tunes that I catch are hopeless ballads that are lyrically awkward to digest due to excessive cheese. Between those two songs is a superb clunking, stomping, bluesy gem of a tune that has James smacking the drummers cymbals to create something like The Black Keys with Paul Rodgers. It's a completely different sound and a vast improvement to the weak 80's ballads that sandwich it. The dry ice machine threatens to traumatise him as he unfortunately returns to his seemingly preferred flaccid slow style, which draws significantly reduced applause and a shout of "soppy c**t".
"The beauty is gone, move on." Lyrics from Junip's opening tune Official and by no means a reference to the new material. He and drummer, Swede Elias Araya, have been playing together since they were 14 and met keys player Tobias Winterkorn in the mid 90's. I presume an unexpected rise to solo fame had temporarily derailed the band, who have existed since 1998.
Their debut album Fields contains 22 songs and no fillers. They're tighter than a duck's butt; floaty keys and steady bass provide a sturdy foundation along with interesting but simple drum beats and accompanying percussion from floor toms, tambourine or xylophone. José's acoustic guitar and voice steal the show, he practically talks the lyrics like a quiet person, straining to be heard.
The deep and plodding fresh sound of Don't Let It Pass brings a smile to the face, Howl increases the tempo and giddy teenagers in front of me begin to do some kind of jig/rain dance. To The Grain also has an airy feel to it, before an epic, momentum building instrumental. Sweet & Bitter gets 'groovy' before the melancholy bliss of Without You and the steady, understated Rope and Summit bring us to the rowdy highlight, Black Refuge.
It's hard to believe they have only produced one album, José reveals they only have 10 more gigs before they can get back to writing. News that brings much excitement and uncomfortable shouts of "We love you". Far Away gets the kids grooving again, before the uplifting and catchy Always leaves us with no choice but to call them back for an encore.
Tide plods deliberately with a metronomic beat. "Whatever needs to be will be" becomes a philosophy that right now, I'm fully prepared to live by. The finale In Every Direction brings a thrilling end to a superb, perfectly executed, effortless, spellbinding and impressive set. When the new album is complete, Junip are going to have a problem deciding which tunes to drop on their next tour.