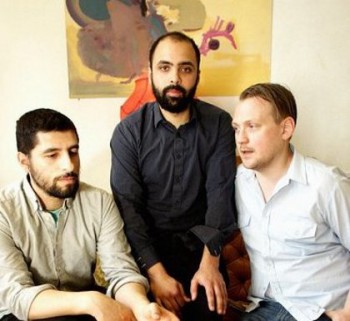 – THE DEAF INSTITUTE, MANCHESTER –
For those of you who don't already know, Junip is the new / old band of Jose Gonzalez.
Originally formed in 2000 with Tobias Winterkorn (Moog and Keys) and Elias Araya (Drums), however, Junip's plans for world domination got firmly put on the backburner when Gonzalez's solo career took off in a rather big way.
His unique acoustic reinterpretation of electro band The Knife's 'Heartbeats' propelled him into a semi mainstream arena with a little help from a popular Sony Advert.
Flash forward to October 2010 and tonight Junip are in Manchester to promote the release of their long awaited debut LP 'Fields'. With 'Fields' being out only less than a month and a lot of people possibly still unaware of Jose Gonzales's involvement, I wondered beforehand what kind of crowd to expect at the Deaf Institute.
There is a decent enough turn out for the gig but it is by no means a sell out. If Gonzales was playing a solo gig he'd probably be able to fill a much larger venue.
Opening with 'Rope and Summit' the band embarks gently into a pensive ambient folk landscape.
On listening to 'Fields' beforehand I was struck by the way the arrangements seemed to effortlessly weave around Gonzales's delicate songs in an expansive yet unobtrusive way. The core of Gonzales's song writing remains whilst Winterkorn and Araya add further reaching levels of depth and texture.
The sound is always pretty impressive at the Deaf Institute but tonight it's at an extra level. Junip have their own sound man and mixing desk perched at the back of the room who along with two additional live band members recreate the sound 'Fields' with uncanny accuracy.
Having played solo for so long, Gonzales looks to be in his element performing with his old pals.
Everything seems so effortless for him as his voices trips translucently over the soft beats and sparkling keys of 'Don't Let It Pass'. Everything is measured gently and the music is played out in an almost hypnotic state. At points in the gig I imagine myself taking drugs to enhance the mood even further.
There is one slight nagging thought about Junip's sound though. Like Air's 'Moon Safari' and perhaps Gonzales's 'Veneer' beforehand, 'Fields' may have the potential to provide the background music for swanky coffee bars and trendy restaurants with its chilled out hypnotic tones. At times it edges sonically into Cafe Del Mar 'chill out' territory.
'Always' blissed out poppy tones give me odd visions of a potential accompanying video set on an Ibiza beach, Gonzales playing acoustic guitar circled by a monged out crew of hardcore revellers still recovering from the night before. It's possibly just a little bit too 'nice.' But this is only a minor blip in an excellent set and 'In Every Direction 'and brings us back on course with its dark searching groove.
The reaction from the audience all night is strong and Junip are clearly enjoying themselves in the early stages of touring the record.
As the band return for the encores there is the obligatory shout from the crowd for 'Heartbeats.' To his credit the amiable Gonzales replies 'This is Junip playing tonight' and instead treats us to stunning cover version of 'The Ghost of Tom Joad' by Bruce Springsteen.
I suspect the next time Jose Gonzales plays a solo tour the people will be shouting for Junip encores instead.