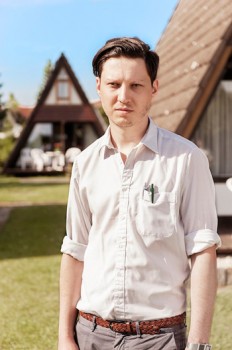 If you check your Mayan calendar, you'll see that 2012 marks the end of the world; a subject that has always been close to the dark heart of one Konstantin Gropper – the "bastard child of Radiohead and Bright Eyes" as Music Week once christened him – or Get Well Soon as he's better known to most. Doomsday prophecies and heavy introspection featured strongly on his two previous albums, both of which took continental Europe by storm on their release, selling 100,000 albums combined to date.
So when this young man presented his new album, ominously entitled 'The Scarlet Beast O' Seven Heads' and announced it as his "summer record", everyone chuckled with delight, since clearly, he was joking. It turned out he wasn't.
Perhaps we need to forget what we know about summer. Forget about barbecues, picnics in the park and holidays in the sun. For Gropper, summer seems to be a feverish trip down doomsday alley, or a sweaty half- asleep nightmare about Helmut Berger and Donald Sutherland. Despite being at pains to point out that he had tried very hard not to write about the end of the world, it was clear that Gropper had only half-succeeded.
The ascent of Get Well Soon began six years ago with the debut album 'Rest Now, Weary Head…'. Listeners and press agreed that it heralded the arrival of something special. The NME crowned him 'the German Wunderkind'; Uncut described him as "startlingly talented"; and the Guardian called the album 'gloriously vivid'.
Over a hundred shows followed that year around Europe, including Glastonbury, Latitude, Roskilde, iTunes Berlin and more. Between tours and composing music for the latest Wim Wenders movie, Konstantin created his more complex and classically inspired album "Vexations", steadily gathering even more attention. MOJO asserted Gropper as "a serious talent", saying that the album was one that "Neil Hannon, Beirut or even Rufus Wainwright would kill to have made".
In the Get Well Soon universe, everything sounds big; even the smallest, most intimate of moments ooze a certain grandeur. On his newest album, this is never truer, as Gropper takes us on a journey through his own 'personal theme park', one that takes its inspiration from Cinema Italiano, Henry Darger, 80s synths and every troubled woman that ever appeared in a Hitchcock film. Like all Get Well Soon records, this is a shining example of his genius at creating playful, buoyant and magical music that manages to cunningly disguise the dark valleys that Gropper walks us through all the while.
Get Well Soon play a one-off London date on September 12th at Hoxton Square Bar & Kitchen.