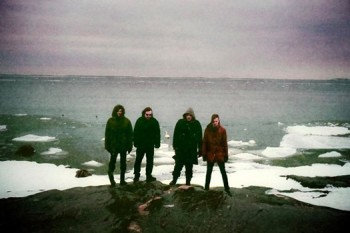 Now 'event of a lifetime' London 2012 is upon us, music fans are starting to worry about what to do with their time over the summer. Sodden festivals aside, and with very few releases and gigs happening, what are the tote bag-wielding music-loving populous going to do to amuse themselves?
Step forward up-and-coming Finnish band SIINAI to fill the cultural silence with a novel idea to let more people know about their 'Olympic Games' album. The original purveyors of the 'ii' in rock music are here to spread some motorik joy throughout our summer.
As from the opening ceremony, SIINAI will be doing something engaging to liven up every day of the Games for the music-hungry over on their Tumblr, including giving away remixes, videos and mix tapes.
To kick things off The Fader have premiered Tom Furse from The Horrors remix of 'Anthem 1 & 2':
A year after its original Scandinavian release 'Olympic Games' has made its way around the world slowly but surely, SIINAI has managed to release a record with Moonface, tour Europe and the US as well as starting on new material.
'Olympic Games' is an instrumental concept album that explores the ancient origins of the Games as well as themes of human existence like joy, mourning, anticipation and release. Following critical acclaim and high praise from their peers we like to think that this would be the official Olympic soundtrack in an ideal world.
'Olympic Games' is out now on Splendour, b