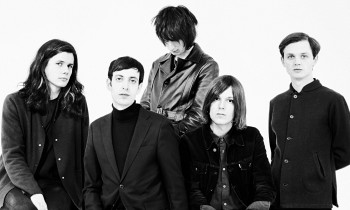 – THE ALBERT HALL, MANCHESTER –
A strange conflict lies at the heart of The Horrors. There's no question that in their best moments they have an urgency and intensity that few of their contemporaries can match. But when that white heat is not apparent – and for nearly an hour tonight it wasn't – what remains has the ring of inauthenticity about it.
From the very outset, The Horrors had a whiff of novelty about them. Of course, many bands can be accused of relying too much on image, but rarely does a band's image feel quite as affected and meticulously choreographed as the Southend five-piece. The Noel Fielding-hairstyle, the studiously disaffected body language, the immaculate 70's German experimental music homages – all pieces that in theory fit together to form a great band, but in practice it just seems too rehearsed.
And so, for the bulk of tonight's show, things go as rehearsed. They trip through tracks predominantly selected from this year's Luminous, a patchy album that doesn't gel to the same extent as their previous two, and it's business as usual. The crowd lap it up, but the band could be on autopilot and you wouldn't be able to tell.
But then, something clicks. As the opening strains of 'Still Life', comfortably the most anthemic song of their career, fill the room, energy levels spike, and the real band emerge from behind the façade. They find their swagger, guitarist Joshua Hayward and synths guy Tom Cowan in particular bursting into life, and they rip through their most bombastic tracks – 'Sea Within A Sea', new one 'So Now You Know' and finally 'I See You'. They become a different band for the last twenty minutes, closer to the free-form freak-outs of Sonic Youth than the reserved coolness that has dominated the rest of their set. Perhaps this is the standard course for The Horrors' shows, but it's hard not to feel that they have wasted an opportunity to blow us away from the start.
Truth be told, the real star of the show is the Albert Hall itself. It's been open in this capacity for over a year now (run by the good folk at Trof, also behind the Deaf Institute and Gorilla), and it's become the venue of choice for sizeable alternative acts passing through Manchester. A modestly-sized Grade II listed old Wesleyan chapel, it resolutely retains the aura of its past, complete with stained-glass windows and organ pipes as a dramatic stage backdrop. Just as important, it boasts one of Manchester's most impressive sound systems and, in this reviewer's experience, easily its most powerful light-show capability. It serves The Horrors well, and with the Manics, Common, St. Vincent, Sam Smith and Jonny Greenwood just some of the names coming its way this year, it's a welcome addition to Manchester's stable of great venues.
The Horrors  Official | Facebook | Twitter | Youtube