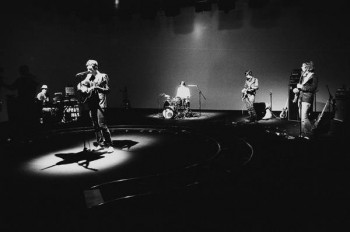 – ST. PHILIP'S CHURCH, SALFORD –
As we shuffle into St. Phillip's Church in Salford there's a feeling that we're the cool kids in the know: This is a warm up gig for the band's upcoming tour as support for The Coral. On come our heroes, entering without pretension and after a quick "y'alright?" they get right on with it
We're treated to run outs of big chunks of the new album Beneath This Burning Shoreline due out 5th July as well as a few old favourites. The first tune is relatively low fi but is hauntingly captivating as it turns out is the whole experience. Although I suspect it wouldn't be but for the magnetic and enigmatic vocals of Simon Aldred. His influence continues throughout and by the second number it's clear that the new songs will be just as jauntily compelling as the 11 gems on Thirsty For Romance.
They're an odd looking band, one of the guitarists looks like he's off the 118 adverts, the keyboard guy resembles Art Garfunkel, the other guitarist looks morose and constantly in need of a poo, while the drummer looks like a modern days Charles Manson. Aldred, somehow threads them all together blokey good looks and an easy manner that somehow instantly makes you want to be friends with him.
Sometimes in sets like this the old familiar hits threaten to outshine the newer offerings but this is foot tapping stuff and we feel like it's a privilege to be getting an early preview.
Were this another band, I might be making comments about the lack of performance as they appear to 'all about the music' and no worse for it. Besides, their frontman holds the attention effortlessly as each and every word and phrase is clearly enunciated and delivered as if his last. Passion and charismatic vocals makes Cherry Ghost a sure fire recommendation.