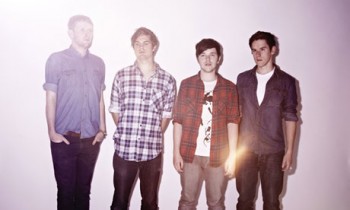 – ST. PHILIP'S CHURCH, SALFORD –
Any gig in this venue, which sparkles with beauty, takes on a certain significance but none more so than one, that is the culmination of what has been in preparation for over a year, and truly sees the launch of a debut album by a band in their home city; tonight was nothing more than the launch-pad for a band on the periphery of their music career.
Support band, Beaty Heart did nothing to lower the temperature, throwing down a mystical carpet and leading us into a world of their own, a bird-hooting paradise with an electrifying soundscape which recalled Animal Collective in their pre- Centipede Hz days. The band were truly multi-instrumentalists and in their talented outlandish playing, drew us into a place of senseless euphoria, the highlight of which was 'Seafood' which served only to solidify the tropical island illusion. No pressure then, Patterns.
As the eye-shielding sunlight left behind by Beaty Hart finally dimmed, Patterns made their way on to the stage.  The nerves are clear in first song, 'Street Fires' as lead singer Ciaran McAuley's voice jitters and fails to carry fluently throughout the decadent parish hall.  Confidence, however, seems to be gleaned from the audience's reaction as in next song, 'Blood', his voice begins to belie his small stature and the band produces a far more impressive sound, magnified by the arena-rock style chorus which tinges with an uneasy compromising sound, not apparent on the rest of debut album 'Waking Lines.'
 'Our Ego' then comes, which seems ironic from a band who seem understated on stage, more focused on completing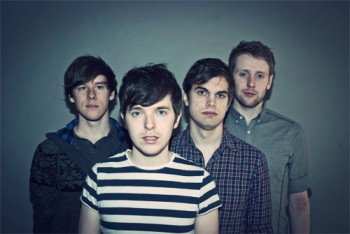 the task in hand rather than rousing the crowd to action. This is abreast with vocal variations, and the chorus produces unconscious foot-tapping across the church stalls. However, we are yet to encounter the choir advertised to be joining the band and when 'Face Marks' starts with still, as yet, no appearance from the choir, the tingling anticipation in the crowd turns to a feeling of disillusion and disappointment, as if we are just watching the clock waiting for the outstanding feature we had gathered to see.
The song starts with programmed vocal cries from a sampler, which you thought couldn't be more fitting for a choir, joined by a pounding bass drum which was propelled upwards by Ciaran's fittingly angelic vocals, concluding with a beautiful coda where Ciaran solemnly declares 'time will tear us apart'. Questions no longer remained over their performance, but one did remain – where is the fucking choir?
'Waking Lines' starts with a fragile sound likely to play out of a toy Tinkerbell as she twisted elegantly in circles, before the slow synths run into a frenetic strum of the guitar as echoing 'woahs' spread round the parish stopping the atmosphere in-transit, before the tinkling synths return and Ciaran's voice sings us out alone. This lone-man approach continues into the next song, as he moves into the pulpit singing alone; a choir boy without a choir.
Finally, comes the announcement that Manchester Community Choir are set to join proceedings; swathes of black descend from the back of the hall and as they begin to walk on to the alter, their siege seems endless, as one after another walks on stage, before finally they line in three rows as their composer mounts a table in front of them. The first attempt to combine band and choir falls on its face, as the instruments drown the choir out who seem to be illusory, wallowing into thin air.
'Wrong Two Words' is a far more successful attempt to incorporate the choir, as the choir wails come into consciousness and add a lush layering effect to the song's composition; however, although not a foot is put wrong the performance leans towards the mediocre and fails to mirror the full year's work put into it.
Album closer, 'Climbing Out' is the highlight of the evening, with the song's quieter soundscape allowing the choir voices to ring out more effectively, and choir and band best join together when the sound is reduced to just a cymbal and hues producing a warm feeling, like having your slippers toasted in front of a coal stone fire, licked by flecking flames.
Sadly, however, just as it begins to make sense the performance ends, and just as quickly as the choir emerged in swathes of black, they descend into darkness; let's hope Patterns time in the spotlight far outstretches that of the choir, and although tonight they failed to grapple successfully with the ambition promised by this show, I feel their ability to aim so highly, so early on, will ultimately lead them to fulfil their promise and one streetlight on their long road has been lighted tonight, although maybe not as dazzlingly as we hoped.
 Patterns  Official | Facebook | Twitter | Soundcloud