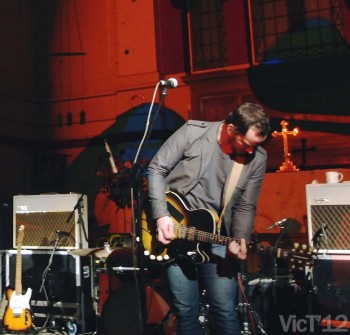 – ST. PHILIP'S CHURCH, SALFORD –
I love gigs in unconventional venues. Almost equally, is having to set off five minutes before this evening's Shearwater gig starts. Tonight's proceedings take place right on my doorstep, in the gorgeous, St Philip's Church. Dating back to 1825, it's a hidden gem, poking out onto Salford's Chapel Street. I've always wanted to have a peek inside this place. Being a local for over six years, I've never stepped foot in it, so I'm one excited little gig-goer.
Shearwater formed over 10 years ago, as an off-shot project by Okkervil River members, Jonathan Meiburg and Will Sheff. Tonight's gig is part of the bands intense Autumn European/UK Tour, where they've been joined by likes of Jesca Hoop and Great Lake Swimmers along the way.
There's no rest for the wicked for these Texan indie-rockers; scanning their 2012 Tour dates, it looks like they've clocked up enough air miles to schedule this Christmas on the moon. So, what better way to cleanse one's weary soul, then to play in these wonderful, holy surroundings this evening.
Not newbies to this gig-going lark, St Phil has previously hosted the likes of Florence & The Machine, Bombay Bicycle Club, I Am Kloot, Fionn Regan and er, the Sugababes. I got chatting to Vicar how long they'd been putting music stuff on and he answered, "Well you could say since the 1800's."
I walked straight into that one.
From the offset, the gig crew are super nice folk, from the guys taking the tickets, to Tour Manager who sincerely apologised to me for a mix up on the door. The TM also goes onto explain that as a rock band, it's the first gig of the tour that they've played a seated venue.
I take a pew at the front, sipping my £3 red wine, unashamedly poured by the lovely bar lady, from a Sainsbury's, wine in a box. Perhaps they need a new roof.
The five-piece enter the alter area as the first thud of Landscape At Speed opens tonight's service. The juxtaposition of heavy intro, aligned with the crowd sat in their neat little rows, looks a little oddly uniform.
I can't hear a frigging word the lead singer Jonathan Meiburg is belting out. Maybe it's just the big impression, wow-factor first song, that's attempting to win the crowd over. It works, as applause ruptures across the church.
Next up, Animal Life, the first taster tonight, of their latest 2012 album release Animal Joy. Although something's still not right, I can't hear a clear vocal. I wanted to give them the benefit of the doubt during the first track. I deduct the lack of wordage I'm hearing is for two reasons: I'm sat right by a big, massive speaker or the vocals are travelling to the back of the venue – where I'm not.
Castaways and Open Your Houses melt into one another and although he could be speaking in tongues for all I know, there's no doubting that this slight fella has one cracking set of lungs on him.
Banter-lacking until now, Meiburg breaks the silence by encouraging the worshipping crowd to break free from the seats and fill the aisles for You as You Were "or this is going to feel a little weird."
A cute older couple have a little two-step 'Auntie at a wedding' dance at the front. It's an epic, full-on rock sound, that I would usually lap up. But the percussion is way too dominating. I'm surprised that OTT drum beat hasn't awoken the guys having the big sleep in the crypts below my feet.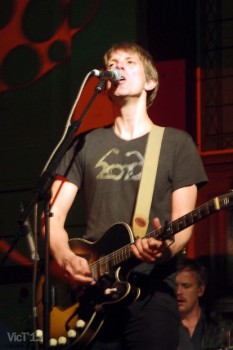 Insolence continues the heart pounding, artery tingling drumming. It's incredible, that the band haven't even broke a sweat yet. Still chilled as yer like, and showing off some heavenly harmonies, Immaculate continues the Animal Joy showcase.
Pushing The River and God Made Me ensues lots more lovely little anecdotes of the song's origins and inspirations. It's an incredible sound, yet without the vocal bumph to back it up, they may as well sack him off and dive into the instrumental genre. I suggest to my gig buddy that we move to the back, to see if it makes a difference. But she's given up already; currently slumped in a pew, from seeing how much wine she can drink in a church.
With a new seat at the rear, Star of the Age blows my theory for a vocal fix to pieces. It doesn't make a blind bit of difference. The gig begins to make me think "It's all starting to sound the same". Once that head worm's been planted in one's head, we know there's no going back..
When the epic encore hits and the crowd beg for more, I'm a frustrated mess. There's no doubting the talent of the band, it's a tight performance, but the vocals has let it down.
All being said, Shearwater are a top and lovely band. After the gig, when I knew I'd have trouble figuring out a set-list, the TM took me to Jonathan who, right there and then recalled all 15 songs for me. But, I suppose you can't be an arse in a church.