Next up from Planet Mu is yet another label debut, this time we're greeted by Swindles. From what I can gather, previous to his "Who Said Funk" E.P. coming out in March this year, he's worked with a pretty good chunk of notable UK MC's. Providing beats and backing for Roll Deep, The Mitchell Brothers, Double S (Their track "Swaggeristic" is top notch) to name a few. This year saw the man launch his solo career, with this latest EP producing some very interesting results indeed.
The Airmiles EP contains four tracks of UK Funky infused Grime, only the best as we've all come to expect from Planet Mu. Title track "Airmiles" is the real kicker, luscious chords coupled with light bongos open the track lulling you into a false sense of security with snappy drum work creeping in until you are hit with the tearing bass line. Disgusting Oscillation on this one with beats for the ladies and bass for the blokes.
Strap in for a rollercoaster of bass lines as Swindle's cranks the oscillators on "Daredevil". Funk fuel keys, vocoded vocal stabs and a dose of electric guitar come together quite nicely to make your feet get that two step shuffle on.
The rest of the EP stays strong in its delivery, with Swindles taking the funk up another notch on "Coffee" and slows the tempo for the deep tones of "Molly", synthed drenched funk.
New sounds all round on this EP, it isn't grime, it isn't UK Funky, I don't actually know what it is but it's a perfect marriage of the two and it sounds like a match made in heaven. The Airmile's EP is scheduled for release on the 26th April 2010 with digital and vinyl copies hitting the shelves and sites. This is well worth the money and it's also worth putting some time aside to check out Swindles collaborations of late.
Listen: http://www.myspace.com/swindleproductions
Love: http://www.planet.mu/
Buy: http://www.planet.mu/discography/ZIQ268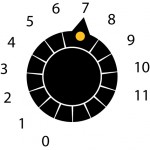 Release Date 26/04/2010  (Planet Mu Records ZIQ268)