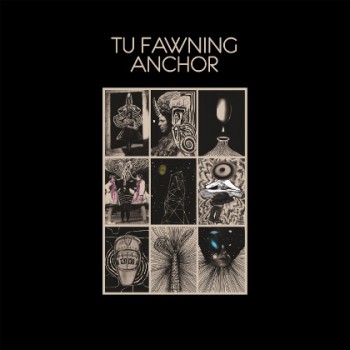 Following the grandiose, bold statement of 7 minute behemoth 'Bones' which was given away online last month, Portland's TU FAWNING have set a Record Store Day release for the entirely contrasting first official single from their stunning new record 'A Monument' (out May 7th on City Slang).
Available in stores on April 21st, 'Anchor' is a crystalline pop gem… a dark opal to be specific, which reflects a whole spectrum of colours upon its dark body. Though we generally agree "all that glitters isn't gold", this is the true exception.
The 7" comes backed with a remix by another exceptional artist: HAUSCHKA who, with the help of a simple piano, reconstructed the song, making a skeletal and beautiful reworking.
Try to label them as Portland's most eccentric band or as the apocalyptic ABBA, to no avail, it just doesn't grasp what TU FAWNING are all about. One thing is clear though; the trail that they are blazing for themselves right now is the one of a band that doesn't fit any genre labels – a rocky pathway only to be mastered by the unique, the adventurous and the skilled.
Led by Corrina Repp and Joe Haege (Menomena, 31Knots), they expand upon the dark, vaudevillian vibes of their 2010 debut LP 'Hearts On Hold' with 'A Monument'. The album is steeped in the band's love of music from around the world, with Repp's formidable, smoky voice leading the charge throughout, at once ethereal and earthly.

Tu Fawning bring their truly unmissable live show to Europe for the following shows:
04.05 Leipzig (DE), Früh Auf!
05.05. Berlin (DE), HAU
15.05. Dortmund (DE), FZW
16.05. Paris (FR), Le Petit Bain
18.05. Macon (FR), La Cave A Musique
19.05. Mannheim (DE), Maifeld Derby
20.05. Munich (DE), Feierwerk
21.05. Vienna (AT), Chelsea
23.05. Rome (IT), Circolo Degli Artisti
24.05. Vittorio Veneto (IT), Bianconiglio
25.05. St. Gallen (CH), Palace
26.05. Kleinreifling (AT), Seewiesenfest
27.05. Frankfurt (DE), Zoom
28.05. Lille (FR), La Péniche
29.05. London (UK), Cargo
31.05. Hamburg (DE), Kampnagel
01.06. Amsterdam (NL), Paradiso
02.06. Brussels (BE), Botanique