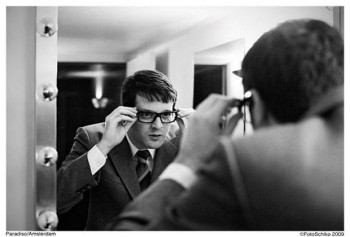 – THE RUBY LOUNGE, MANCHESTER –
Well this guy has been on my radar for quite some time now. I first stumbled onto Mayer Hawthorne when he was due to play at the Pukkelpop Festival in Belgium last summer. Unfortunately, there was the quite apocalyptical storm that destroyed the festival site on the first day and even a number of deaths. The festival was cancelled and my list of acts 'still-to-see' gained around thirty names due to this. Ever since, my aim has been to see the majority of bands that I missed at individual gigs. And tonight, thanks to the lovely booking skills of The Ruby Lounge, I will get to scrap another name from that list.
Hailing originally from Ann Arbor, Michigan, Mayer Hawthorne has been making a name for himself as a purveyor of bringing soul music back to the mainstream. With remixes ranging from Snoop Dogg's Gangsta Luv to Empire of the Sun's We are the people, he takes a slightly different, more pop-orientated approach than his colleague, Ben L'Oncle Soul. But don't be mistaken; he doesn't forget who his role models were.
The 'County', as Mayer calls his backing band, take to the stage in a well-attended Ruby Lounge, all sporting red cardigans and ties or something similar to that. Uniform was key back in the days of Motown and these lot look to build on that tradition. Kicking into a classic soul sounding jam, we can hear Mayer hyping up the motor city and announces that he'll be taking us back to Detroit tonight. When he finally takes to the stage, wearing in a red suit, 'Maybe So, Maybe No' blasts into the crowd and the hip shaking begins. And this is where he sets the tone and we get a glimpse of those lovely festival summer days ahead: "Welcome to the Mayer Hawthorne SHOW. This aint a concert so if you're not here to party, move to the back!"
'Make Her Mine' gives the tambourine a well-deserved and sexy comeback. This white Barry White-esque slow beat soul tune takes the pace down a bit before taking it up a notch with 'Your Easy Lovin'. The crowd skanks along and you can feel the floor bouncing. With bits of the song reminiscent of The Supremes' You Can't Hurry Love, it's a tribute to the sound that we all share and love in this room tonight. It's also worth noting that we're in the company of one of the most diverse crowds I've seen yet.  Be it students with excellent musical taste or their parents who are reliving one of those glorious summer days from their youth. The salsa-interim that is 'Rico Suave' gives us a short breather but also sounds strangely similar to some of the cheesy elevator music you find in some hotels. Yet, if possible, the good kind of elevator music, you get me?
Besides the earlier mentioned uniformed outfits, Mayer is aware of all the classic 'showbiz' tricks. From the mandatory full-band freeze, to getting the crowd to make 'drizzling-rain'-hand motions during 'I Wish It Would Rain', to the modern-day 'picture-time'; "This is the part of the show which I like to call picture time. I take a picture of you guys, and you get to take pictures of me!" Whilst 'The County' plays a little TV jingle, the venue is lit up with flashes.
However, turns out part of the deal is that we then put all our 'technological shit' away and forget about having proof on Facebook or Twitter of what happens next. It is time to party in real-time: "Everybody who fucked up and isn't here tonight won't be able to see a picture anywhere of the crazy shit that went down in here, right now!" And crazy it is. The classic 'You Make My Dreams' by Hall & Oates, one of my personal all-time favorite tracks, crashes into us and beams us right back to 1980. On top of all this, he finds some time to teach us a traditional Detroit-dance move, the 'Errol Flynn'-hand movement. And if you aren't here, I'm afraid it's impossible to recreate this moment or even describe it. Let's just say it was very 'Beyoncé'…
The last part of the show is introduced with a little narrative of when he was cruising down Hollywood Boulevard in his '62 chevy. As he was driving with it's top down, wind in his hair and thinking of the girl he had been with forever but had come up to the stage of putting a ring on it or getting out of there. And as he takes us away on this little story telling trip, the band launch into their biggest hit, 'Just Ain't Gonna Work Out', which gets a raucous crowd reception. Though it's a great track, we have been waiting for that one spark to set the place alight all night and thankfully party-track 'The Ills' does just that.
As the band leave the stage, nobody is willing to go home yet, and upon their return for an encore, the mood has changed from a show to jam-session amongst friends. He toasts to Manchester with a tasty sip of Hennessey (I've got my cup and I'm filling it up) and the night ends with every band member getting his solo-moment.
Now, I've never been to Detroit. But if it's anything like this, I shall definitely be visiting the motor city soon. Easily the sexiest gig I have ever witnessed.