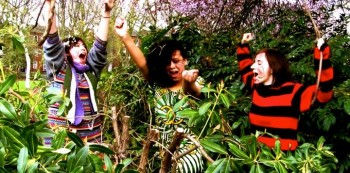 – GULLIVERS, MANCHESTER –
The best and most interesting bands demonstrate free, just will like the rest of us,  and make their decisions according to their own vision, for good or ill.  Relying on formula is clearly not on the agenda of for Ill, who are already on stage as I arrive at Gullivers.  First impressions of the sounds emanating from the upstairs venue, it appears someone is  throwing a box of toys thrown down the stairs – hard.  My first sighting of Ill through the quite large and mostly female crowd is a of 5 piece girl-band brandishing saws and cymbals, and collectively looking like Hit-Girl after a run through the local Oxfam shop.  Clearly serious about their music, but not taking themselves seriously, we are quickly locked into rhythmic loops which delivers a simultaneously celebratory and confrontational assault on the senses, with a sound that initially has me thinking of The Fall.  In a set of seven songs Ill set out their agenda on perverts in 'Slithering Lizards', marriage in 'Hysteria', feminism and civil rights throughout 'Kremlin', like a political mini-opera to capture our times, presented with a focused energy and urgency that demands your attention.    Just go and see them, and witness the illness
Next up is Sex Hands, who are tonight are  beset with technical issues that seem to frustrate the band and never let them get into their stride.  I've seen them twice now in a month and on both occasions they have frustrated me:  I wonder if they will be famed for heroic failure, being both brilliant then unimaginably bad, sometimes achieving both these tangents within a single song.  This is a band who are in a different place to me, are engaging only with themselves, and don't seem to care: (A shouted enquiry of 'Who are you?' is met with the deadpan response "The Falafels").  I can't figure them out.
Headliners on the night are Trash Kit , and I am immediately hooked. The opener 'Skin + Phone' mixes a free-style military drum pattern with the simplest yet compelling bass-line and a fractured but melodic finger-picking guitar line, which immediately puts me in mind of the Minutemen.  With a stripped back quality to their music which lays each part bare, the music feels selfless as each musician contributes equally – a rare thing in many bands.  Every note, beat and word therefore has even more meaning and resonance, and the song-writing and song structures are amazing and cartwheel along.  They play with a passion that feels immediate and fresh, and which totally belies the singers apparent shyness between songs. She introduces one song with "This one is about being too shy to leave your bedroom….why does everyone laugh?"  Any awkwardness she may feel in "normal" life  is clearly overcome by her  musicianship and the total absorption of this band in their music: the whole performance tells you they are enjoying life and having fun. Sample introduction – "That ones about feminist history – this ones about being psychic."  Their final song of the night is stopped temporarily by the sound man due to a member of the audience having a fit, which somehow seems apt:  Thankfully they recover and Trash Kit close the night, pack up and head off to their next adventure.
In a week when we are witnessing the actions of a (male) rogue, primitive and paranoid power, what better personal response can there be than to celebrate (female) independence and free-thought:  Trash Kit & Ill both delivered with a sense of self-deprecation but total self belief.  There is nothing usual about these bands, as there is nothing usual about our times.  More please.
Trash Kit  Official | Facebook | Soundcloud