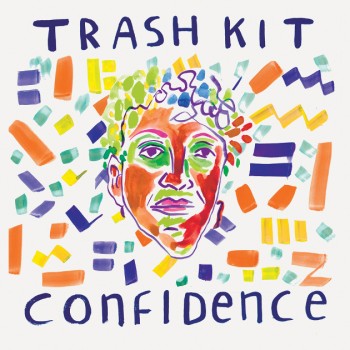 There's an innate appeal in hearing bands who push boundaries and plough their own furrow. The interest for the listener in being at the edge of the musical map is there are fewer points of reference, no landmarks to keep us on track and provide comfortable orientation. For the bands performing in this space, there must be a similar sense of liberation, and a joy in shrugging off expectations, preconceptions and the "norms" of genre, and finding their true expression. Trash Kit exist in this space. Leaving behind the lineage of X-Ray Spex, The Ex and The Raincoats, they are now at a level as musicians and songwriters to push at these boundaries and define their own landscape and language.Ostensibly a straight-up three-piece, Rachel Aggs, Rachel Horwood and Ross Murray have built an enviable reputation around their live performances, and with second album
Confidence
they have now delivered an album that fulfils their promise, and manages to sound simultaneously improvised and highly structured, simplistic yet intriguing, melancholic and uplifting.It's commendable and a credit to the musicianship of Trash Kit that they can achieve such dynamism and movement in this album while maintaining such a high degree of restraint and discipline in their sound. They have a naturalistic, simple approach to their songs, which suggests a clarity of purpose as well as a clear vision of "their" sound. There is no (apparent) additional instrumentation or embellishments other than occasional horns, and yet this minimalistic approach actually draws the listener in more, and engages through its honesty and transparency.  There are no tricks here, just an assured display of a band at ease with themselves and their ethic.
It is also as well that they are so cohesive as a band: there is always a fine balance between being interestingly off-kilter and being deliberately obtuse, and at times Rachel Horwoods uniquely spiralling drum patterns and the insistent urgency of Rachel Agg's guitar threaten to unravel any sense of structure. While Ross Murray's bass provides the axis, the guitar and drums sometimes spin and spiral in unpredictable arcs, seemingly independent of each other and out of any order or pattern, until the gravitational force of their combined vision pulls them back into a recognisable orbit and we re-orientate ourselves. At times this can seem overly contrived – such as on 'Boredom' – and I wonder is this a deliberately awkward treatment to maintain an indie credibility, but I doubt it. There is always a pop sentiment under the angular guitar lines, deconstruction and jazz breakdowns, and an energy and lightness of touch about the album that states they are in that space where they have found their feet as a band, but have not yet lost the joy and sense of power of music as an expression of themselves.
And it is that vital questioning energy that shines through on this album. 'Beach Babe' suggests impatience, 'Hair' shouts out for immediacy. On some songs the vocalisation is limited as words fail expression; on others the diary-honesty of the lyric is startling.  'Shyness', which closes the album, is a manifesto for the disaffected and sensitive, driven by squalling horns and insistent rhythm, but with the most subtle chord change which morphs a paean to timidity into one of the most joyous, life-affirming songs.
It will be interesting to see how Trash Kit develop their sound further, but for now they are delivering on their early promise with integrity and honesty, and proving good value for it. Highly recommended.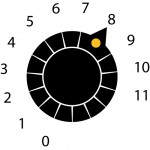 Release Date 01/12/2014 (Upset The Rhythm)