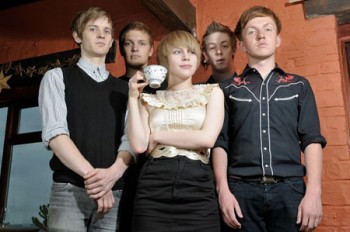 – THE DEAF INSTITUTE, MANCHESTER –
Bassless wonders, Waiters, are an utter shambles. It's conceivable that they all got given their first instruments this Xmas, formed a band, booked a gig, and thought to Hell with the consequences. The frontman somehow has a voice like a baby crying, the drummer impassive as he taps out the most rudimentary of beats while stoically avoiding his cymbals.
Despite displaying a complete package of shortcomings, there's something fantastic about them. Their brief ditties dribble with charm, and the simplicity of it all makes them impossible to dislike.
Fellow trio, Pocketknife, up the tempo. Their chunky, clunky uber-grunge riffs clatter along on murky basslines and stop/start dynamics, while the sticksman tries his hardest to reign in his prog-leaning tendencies. The excruciating silence between songs is punctured by Sian Hayward's larynx-shredding vocals, which pitch their sound in the same region as Babes In Toyland and Manchester's long-lost Solar Race.
With the ballroom swaddled in a gentle mauve glow, Rolo Tomassi show us how it's meant to be done in front of a mixed crowd of checked-shirts, dressy indie types, and – considering the brutality they dish out – a surprisingly small smattering of metalheads.
Tightly clad in black, Eva Spence's perpetual motion hips signpost hitherto hidden grooves in the quintet's maelstrom of noise, giving appreciative nods to SikTh, Cutting Pink With Knives and The Murder Of Rosa Luxemburg at its frantic heart.
The band's bodies wretch and lurch as each musical explosion is eked out, bassist Joseph Thorpe in particular cocking a snook at health and safety regulations by using the bar as an extension of the stage, while the ever-captivating Spence moves like a feral flamengo version of the dancer on the Tales Of The Unexpected intro.
The aired new material shows no dip in intensity, and if anything, the past couple of years have made the likes of Abraxas and I Love Turbulence even more ferocious. It's impossible to see Rolo Tomassi holding any more than a niche appeal on record such is their inaccessibility, but live, they're guaranteed to warm all but the chilliest of cockles.