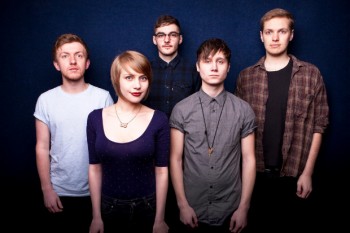 – THE DEAF INSTITUTE, MANCHESTER –
Rolo Tomassi are a band that have to be seen to be believed. The Sheffield based quintet have been messing with our heads since the mid-noughties, using hardcore as their base then combining it with every musical genre known to man to become one of the UK's most eccentric exports. Tonight sees the band in the middle of a long over due headline tour, all in support of their quite brilliant third album 'Arstera'. It is also their first UK tour with new guitarist Chris and new bassist Nathan. So it's fair to say, this is big night for old school Rolo fans such as myself, new songs and new members; excitement is in the air.
Before all of that though, we have two great support bands, first the intense melodic hardcore of Goodtime Boys who win us over with sky scrapping guitar lines and an extremely passionate front man who screams like his life depends on it. And secondly, we have Oathbreaker who put a capital H on heavy and hardcore with their doomy bass tones and bone crushing breakdowns.
And we barely have anytime to take a break in between as Rolo Tomassi take to the stage, opening with the apocalyptic synths of new album opener 'Howl' which explodes into a crescendo of crashing drums and thunderous bass before a huge breakdown ascends and everyone in attendance buckles up for a rollercoaster ride of a set!
A big factor of Rolo Tomassi's appeal comes down to their musicianship and how incredibly technical their songs are as tracks such as 'Remancer' and 'Echopraxia' take you through head fryingly brilliant math rock work outs with time signatures to make you head scratch and guitar lines to stoke your imaginary beard to! They also know how to riff out too, early single 'I Love Tuberance' and recent single 'Old Mystics' are key examples of featuring big chunky guitar riffs underneath their techy exterior. The cosmic, star gazing intro of 'Emiresk' and the space odyssey that is 'Kasia' work side by side to create an epic mid-set atmosphere as the crowd now gaze and nod in unison in wonderment; heavy they may be, but Rolo have a knack for creating a real powerful dynamic in their songs, brutally blowing your head off one minute, then putting it back to together and gently nursing you back to health the next.
The band close with 'Party Wounds' which is a straight up mosh anthem with awesome rocking beat downs and sweet danceable breakdowns. Just as we think it's all over, the band re-appear for what seems to be an unplanned encore as the crowd excitedly scream for more. And to bend our minds even further they close with 'Illumine', the closer off the new record which is one of the most epic and most beautiful tracks they've created, with its dreamy synths and soaring guitar work, it brings the night to a perfect climatic close.
So in short, a triumphant return, in spite of new members, nothing has seemed of changed, Rolo Tomassi still one of the most bewildering live acts in the country and tonight see's them on top of their game.