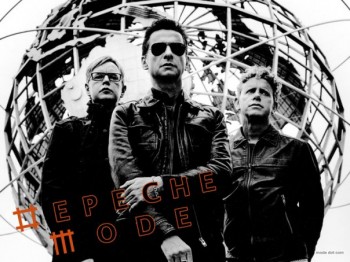 – MEN ARENA, MANCHESTER –
You have to hand it to Dave Gahan. He always has an ace up his sleeve – and never more so than in live performance.
It's a miracle that he still with us today after 3 brushes with death in the 1990′s and a nasty bout of gastroenteritis earlier this year. The singer certainly lives up to his nickname 'The Cat'
Gahan was in full rock star mode at Manchester Arena – strutting provocatively around the huge stage and occasionally twirling his microphone around his skinny body like Freddie Mercury
He commanded the stage for a 20-song set strong on fan favourites, plus the full panoply of a stadium gig – including confetti cannons, smoke machines and balloons.
Opening with Chains and Wrong – both from their latest album Sounds Of Universe – the Basildon band launched into the piano heavy Walking In My Shoes.
After truly epic versions of Enjoy The Silence and World In My Eyes, Gahan leaves the stage to allow Martin Gore to perform his semi-plugged cabaret, before returning to the stage to unleash showstealer Personal Jesus, which brings the house down.
So while other 80′s bands like Gary Numan and Human League occasionally succumb to electropop banality and disco cheese, Depeche Mode's set is filled with one stadium anthem after another