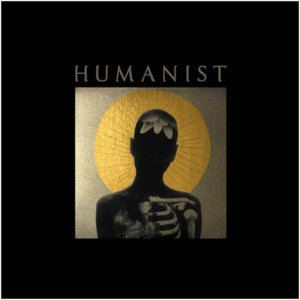 There are many old sayings about perseverance – 'if at first you don't succeed, try, try try again', 'everyone loves a trier' – at least one of these must have been lodged in the head of Rob Marshall. guitarist and songwriter for Humanist. After being in Exit Calm for nine years, when they disbanded in 2015 many would have quit. Instead he contacts Mark Lanegan and asks to be a songwriter for his 2017 album 'Gargoyle', which Lanegan accepts, and then continues to work with Marshall as a co-writer for Lanegan's latest 'Somebody's Knockin' released in 2019. If you don't ask, you don't get!
Now for his own project, Humanist, he has managed to not only get his mate Mark Lanegan on board but also Dave Graham from Depeche Mode, Mark Gardener from Ride, John Robb from The Membranes and Goldblade plus many more.
The idea for Humanist emerged after Marshall watched a Shane Meadows documentary about songwriter Gavin Clark, an artist who Marshall had shared a manager with and who sadly took his own life. Marshall was moved to start writing an album that dealt with mortality and the fragility of the human spirit, drawing up up a list of vocalists he wanted to appear on the album, they all said yes, and the Humanist project was born!
From the start it's clear, that there's a depth here both in the resonating lush vocal tones of Mark Lanegan, plus the hefty weight pounding drums, atmospheric guitars and synths conveying the raw emotions in each tune, as on the melodically menacing ' Kingdom' and 'Beat of The Nation'. It's not surprising that some of the tracks on here sounds a lot like the ones on Lanegan's own albums, after all, they were written by the same person, with the same gorgeously unique vocalist adding his unmissable stamp to it, yet Humanist also manages to be a brilliantly written set of songs which stand on their own. 'Shock Collar' with Depeche Mode's Dave Gahan on vocals has a huge cinematic scope to it, with his soaring vocals over a fast electro beat blast of guitar drenched rock, Manchester's own John Robb adds his vocals to the captivatingly dark riffs of 'English Ghosts' and Ride's Mark Gardener does the vocal duties on the dreamscape that is 'When The Lights Go Out'. Elsewhere there's vocal contributions from legendary songwriter Ron Sexmith, garage rocker extraordinaire Jim Jones, and even the vocalists and songwriters on here who are new to me such as Madman Butterfly, Joel Cadbury, Ilse Maria and Carl Hancock Rux deliver a powerful punch with poet Rux delivering a spoken word piece over the track 'Mortal Eyes'.
It's a remarkable collection of tunes recalling Depeche Mode, Nine Inch Nails and The Chameleons, yet with an intriguingly unique allure. There's huge sounding stadium rock anthems, plus more delicate moments throughout the albums fifteen tracks, which may have been inspired by deep emotional themes, yet still manage to be a collection of absolutely glorious melodic tunes. A beautifully dark debut.
Humanist: Humanist – Out 21st February (Ignition Records)