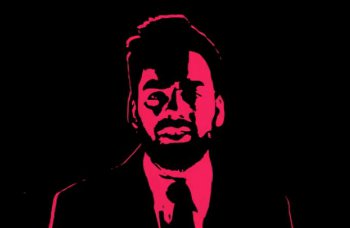 Newly released album 'Hollandaze' is a grimy, gum-splattered ménage of surf-gaze, punk and lo-fi, cut from twanging reverb & fuzz heavy guitars, thick driving bass & drum machines and overdriven hammond organ. Based in Toronto, Odonis Odonis make killer hook-driven tunes that hark back to the classic '80s sounds of The Jesus & Mary Chain, Pixies, Big Black and The Cure. Like a good post-modernist, however, these influences merely colour, but do not define Odonis Odonis.
Originally a solo project for prolific songwriter/ bandleader Dean Tzenos, Odonis Odonis has only recently become a live band project, playing their first live shows in May and picking up heat as one of the buzz bands of Toronto's NXNE festival. Compiled from a wealth of material written and home-recorded between January 2009 and September 2010, Dean recorded virtually all of 'Hollandaze' alone in a tiny home studio, writing two or three songs a day – generally starting with drum programming – before adding bass then guitar and vocals, experimenting with a host of different styles.
Recording nearly forty demos in just a few months, Dean subsequently picked out ten which he took to Vancouver to re-record with Colin Stewart (Black Mountain) and which will appear on a second album due Spring 2012 and featuring a stella line-up including Kathryn Calder & Kurt Dahle (New Pornographers), Colin Stewart (Black Mountain, Pretty Girls Make Graves), Jordan Keep (Hard Feeling, You Say Party!) and Alan Douches (Animal Collective, Kurt Vile, Beach House) Signing to FatCat in June, Odonis Odonis' first release came in May with an ultra-limited edition 7″ single – 'Busted Lip' on Canadian label We Are Busy Bodies, followed swiftly in July by four tracks on a split 12″ (shared with Deerhunter side project, Lotus Plaza) on FatCat's new sister label, Palmist.