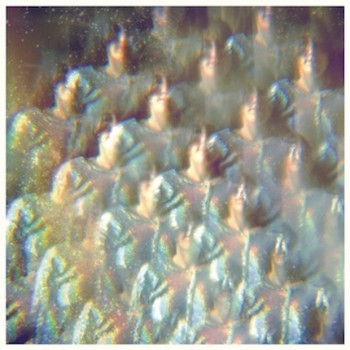 What's in the water up on Merseyside? It's as if there's an endless source of almost psychedelic otherness running deep beneath the place. It's there in the music of everyone from the La's to Ladytron; an off-kilter wonder that sets the place and its art apart from the rest of the country.
Stealing Sheep are very much a group channelling that source. You could hear it in their first recordings, released collectively as the Noah & The Paper Moon EP. And it's there flowing throughout their debut album, Into The Diamond Sun, a collection of songs that don't so much defy genres as gleefully hand-pick the most mellifluous elements of everything from voodoo folk, DIY pop, post punk and analogue electronica, and stitch them together into a glorious harmonic whole.
Recorded at Mello Studios with Sam Crombie, Stealing Sheep's debut album proper is an Olympian leap forward, so much so that at points the record sounds like it's arrived from its own private universe. Whereas on one track – White Lies – the group could be the much-missed Broadcast closing the main stage of the Green Man festival, on another they sound not a million miles from a properly wigged out Go Go's (Genevieve). Elsewhere, ghostly piano codas (Bear Tracks) brush up against galeophobic warnings about the perils of the seaside (Shark Song).
Into the Diamond Sun is a glimmering, shimmering work, where Rebecca, Emily and Lucy's unique visions of music warp into a singular whole. It's also an exceptional addition to Liverpool's celebrated lineage of unconventional art and music.
Into The Diamond Sun will be released via Heavenly Recordings on 3rd September 2012
'Shut Eye', the first single from the Into The Diamond Sun, has already notched up over 115,000 hits on Youtube.
UK Tour Dates:
Friday 13 July – CHELTENHAM – 2000 Trees Festival
Saturday 14 July – LIVERPOOL – Kazimier Summer Garden Party (Headline)
Friday 20 July – CORNWALL – Port Elliot Festival
Sunday 22 July – ABBOTS RIPTON – Secret Garden Party
Saturday 4 August – HERTFORDSHIRE – Standon Calling
Friday 10 August – LYMINGTON – Kneedeep Festival
Friday 17 August – GLANUSK – Greenman Festival
Saturday 1 September – LONDON – Rough Trade East (Instore album launch)
Saturday 1 September – KENT – In The Woods Festival
Saturday 8 September – ISLE OF WIGHT – Bestival
Saturday 15 September – PORTMERION – Festival No.6