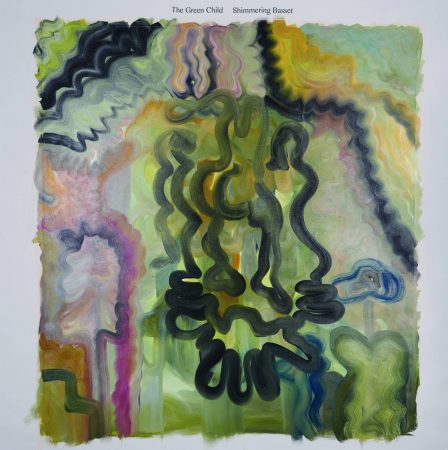 The story of The Green Child is a fascinating one with members Raven Mahon and Mikey Young meeting in California before Raven moved to Australia to work with influential Australian musician Mikey on the Mornington Peninsula, south of Melbourne. 
Since the move, The Green Child have already made one album and 'Shimmering Basset' is their latest which is released on the day of writing, 16th October. The new album is an evolution focusing on more intricate musical elements, with the twosome really labouring over this product to ensure the quality is maximised. 
As with their previous material, the overlying theme of the album still remains on the dominant synth-pop aspect, this time with a blend of live and pre-recorded drum tracks. Raven's haunting vocal style really pushes through the mix and is one of the exceptional selling points of this band. Even as the album begins with 'The Fashion Light' and 'Low Desk: High Shelf', her soothing tones become apparent whilst the synthesisers dance calmly around the lyrics.  
'Dreamcom' brings a further ghostly sensation with a staccato-infused rhythm of popping keys whilst harmonically moving through the track before fading off into the distance as if into the dark. Before then coming back to life with 'Tony Bandana' with its prominent and striking guitar chords before gracefully criss-crossing and reverting back to prominently sinuous synthesiser arrangements through 'Health Farm and Witness'. 
An organ and saxophone pairing in 'The Installation' bring yet another refreshing sound into the latter stages of the album which give a real retro and relaxing feel. The instruments mirror the vocal melody perfectly thus enhancing the quality side of the album that was focused on so much throughout production. 
'Double Lines' is the perfect way to round up the album and bring it to its apparitional conclusion, again utilising fading out to draw the piece to a close. A gentle and muffled digital drumbeat give way to yet more wavy synth patterns which coincides with the overall tranquil feel of the album and brings a magnificent sense of escapism to the modern life. 
The Green Child has a fantastically unique style about it and is just one of Australia's many gems of music that has appeared in recent years. The whole feel of the band is one of quality and a chance pairing of people that has really struck gold. The instrumentation, vocals and overall sound is one to cherish and is perfect to listen to on a rainy afternoon as the droplets hit the ground and windows. This new album is a masterpiece and is an excellent follow up to their last 2018 album with a clear musical evolution reflected through their sounds and visions. 
The Green Child: Shimmering Basset – Out 23rd October 2020 (Upset The Rhythm Records)