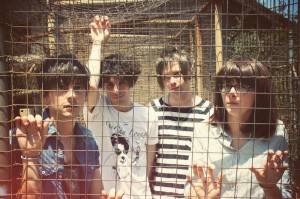 – ACADEMY 3, MANCHESTER –
It's an intriguing experience going to see a band you've never heard of. You're worried you might hate it, and as a reviewer, you're duty bound to stay for the whole thing. Well it turns out I had heard of The Answering Machine, I just didn't know it and I would gladly stay through the whole thing again.
There's a modest crowd of about 100 in The Academy 3, making it about a quarter full mostly with student types and a sprinkling of mid twenties to thirtysomethings. They start pretty noisily with three of the four-piece throwing down some serious thrashing. The first couple of numbers are good but too guitar heavy for my taste.
As they ease into the third choice, 'Christina', the emphasis shifts to more musically gratifying tunes where the vocals stand a chance of equal billing with the instruments. Lead singer, Martin Colclough, manages to play guitar and sing delightfully throughout. Whereas in the studio, the rest of the band hold their own vocally, live they can't quite match it, but when you play this well who cares? Not me.
I'm enjoying it but feel like I'm not as up to speed as some of their die hard fans who are relishing every word of songs they clearly know off by heart, and that lasts until they strum into "It's Over! It's Over! It's Over!". I know this one! As will any avid player of FIFA10. Suddenly I'm bopping like everyone else. An experience I predict a rapidly growing number of people will enjoy.