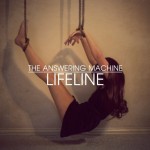 On the 16th May 2011, Manchester indie band The Answering Machine announced that they will no longer be making music together via a handwritten letter posted on the band's official website. The announcement came just three months after the release of the band's critically acclaimed sophomore LP, 'Lifeline' (released on CD and digitally on 21st February 2011).
As a celebration of the band's six years together, The Answering Machine has teamed up with long-term friends and record label Heist Or Hit Records, to release a Limited Edition run of 'Lifeline' on black vinyl.
Limited to 500 copies, the LP will also feature an A3 lyric sheet, designed by the band's drummer Ben Perry. The band has also posted a signed 'farewell' letter on their official website which states the following; "Way back in 2006 we released our first 7 inch single black vinyl, through Manchester indie label High Voltage. Limited to a run of 500 records, it sold out in two days. We were beyond proud and still have that same sense of pride presenting you with this, our final release. This posthumous reissue of Lifeline on vinyl is our way of saying thank you to you guys as fans and of celebrating what we deem to be our greatest achievement."
Heist Or Hit Records has also released a free download of one of the tracks from 'Lifeline'. '3 Miles' was set to be the band's third single from the album, but will now be a free gift, as a way of saying 'Thank You' to fans.
'Lifeline' (vinyl) is available to buy from Monday 27th June via Heist Or Hit Records' online shop (http://heistorhitrecords.bigcartel.com/), and all good independent record stores. You can read the band's 'farewell' letter in full at http://www.theansweringmachine.co.uk
Download '3 Miles' from http://theansweringmachine.bandcamp.com/track/3-miles