Unexpected, crazy, eclectic – are just several of the adjectives that describe Crystal Fighters' gig at Academy 2. The five-piece come from London and are known for the mad live shows they throw. It's almost half-carnival, half-rave.
The band plays a total of 16 songs from Star of Love and Cave Rave. Despite only having released two albums so far, Crystal Fighters have amassed a large fan base. The crowd, mostly tweens, screams their way through the opening introduction, which borders on 10 minutes as each member takes turns coming on stage.
I immediately find myself thinking: "What am I looking at?!" The electric guitarist is topless. The female vocalists are dressed in shimmering silver saris. And the frontman is covered in a similar silver gown that falls right over his face as to hide it from view and he has bronze-coloured bells where his hands should be.
Before I can comprehend their get-up and familiarise myself with their vibe, Crystal Fighters launch into 'Follow'. It's a powerful way to start the night, with credits to the drums and the electric guitar. The crowd is dancing and jumping so hard that I start to wonder if the floor can withstand the weight. It doesn't ease up throughout the night, as evident on songs such as 'Swallow', 'Love Natural', 'You and I' and 'I Love London'.
Personal favourites of mine include 'LA Calling' and 'At Home', classic examples of how the band has evolved between albums.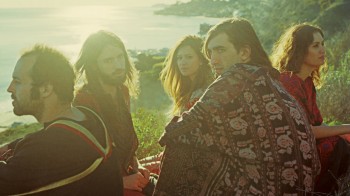 One thing I noticed is there is a tendency to slow down the tempo of certain songs ('Plage' and 'Are We One') towards the bridge, hence creating a rhythm that encourages the crowd to sway their arms in the air slowly. Quite a sight. Special mention goes to the wicked drum solo by Andrea Morangiu.
Highlights of the show are the little speeches that the frontman, Sebastian Pringle and the electric guitarist, Graham Dickson deliver. They talk about "consciousness of the mind" and how "the past is perception and the future is… but this moment is real." They even encouraged the crowd to offer something in their pockets to the stranger standing next to them. It all seems incredibly bohemian to me – as was the entire show. I am still not quite sure what I witnessed that night. It's definitely half-carnival, half-rave, but there's something I can't quite put my finger on. I guess there's only one name for it: Crystal Fighters.