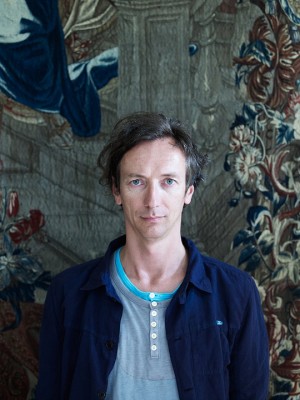 – THE LOWRY HOTEL, SALFORD –
Let's get this out of the way. The main reason I'm here is because the venue for tonight's show is The Presidential Suite in the Lowry Hotel, and I'm pretty certain this is the only chance I will ever get, in my entire life, to spend an evening (let alone a night) in such refined surroundings – that is unless OH Productions put on another show here. Here's hoping! The show itself is held in the suite's tastefully decorated living room, which looks out onto River Irwell and the glittering lights of the convergence of Manchester and Salford. Inside, everything that is not nailed down has been removed, possibly out of respect for the potentially light-fingered attendees, but probably to create room. Despite the grand surroundings, and because the piano sits on the back wall away from the window, the atmosphere is enjoyably intimate, and not particularly presidential. If Hauschka had been sitting in front of the window the show might have been epic, in a New York New York fashion, but ultimately less satisfying.
Playing support is the excellent Nancy Elizabeth. She is obviously nervous; she hasn't played live for a few months she confesses; but these things are masked by a sharp sense of humour, and the fact that her songs, mostly new, are universally impressive. An accomplished pianist, Elizabeth lays down intricate melodies on the keys over songs that have the deathly, deep melancholy of traditional folk. If it wasn't impossible I'd say that Nancy had travelled back into the depths of time and plucked these songs from hands of long dead, past masters. Nancy, please play more shows!
Hauschka may sound like the name of a bogeyman invoked by parents to scare children into behaving, "Don't tell tales or Hauschka will come and get you", but it is in fact the moniker for Dusseldorf-pianist and composer Volker Bertelmann. He states at the start of the show that this will be a mainly improvised affair, as his latest album, Foreign Landscapes (read review here), "…was recorded with a twelve-piece ensemble, and I don't have four arms…" This concerns me. Will boredom creep in? The answer is a massive "No"! By turns affable, charming and completely normal when talking to the audience, and massively eccentric in his playing, Bertelmann is, in his own unassuming manner, a masterful performer.
He plays the prepared piano, which involves putting certain items inside the body of the instrument to alter its sound. Haushcka explains that his favourite purchase over the last few years, other than a nice pair of shoes, is a child's tambourine and bells that he picked up in Dublin. When placed correctly, they give the instrument added bass. After the gig, I walk over the piano to peak inside and there is all sorts of crap in there: the inner tube of a bicycle tyre, pieces of wood, batteries, a necklace made of shells, and under the piano is a sizeable bad of ping-pong balls. These are all applied to beguiling effect, at times transforming the piano into a percussion instrument, and at other it sounds exactly like a synth. Hauschka, you see, is more concerned with textures, than he is with melody and rhythm, which sounds dull, but it really isn't. It's immensely fun just watching him tinker with it, and punching away at the keys like the android Bishop doing that knife trick in Aliens. You know the one I mean!
He's lead an interesting life, playing in hip-hop outfits, rock bands, raising his children, growing up playing in Ferndorf's forests. Before he recorded his debut album in the Brecon Beacons he was a piano teacher for a long while, but in 2008 he was badgered into a tour – since which he's played over one hundred gigs a year in 28 countries. As a result he has no grasp of time, which seems to be infectious as the last hour has gone by in the blink of an eye. I wander out of the room forgetting where I am. Suddenly the surroundings seem not to matter.