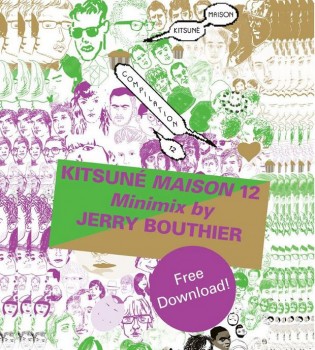 – THE GOOD FUN ISSUE –
Kitsuné's head-honcho and the brain behind its renowned compilation series, Gildas Loaëc, is letting us discover it for the first time on headphones because his young sons are sleeping next door. However the energy is more present than ever in the spontaneous musical outbursts gathered in this new edition and which were of course conceived in bedrooms, kitchens, garages… These tunes sure don't beat around the bush and never fail to provoke emotion or make you wanna jump up with joy.
1 Citizens ! « True Romance »
A brand new band signed to Kitsuné. Three handsome London boys who pen songs with a panoramic view. Warm, welcoming, traditional, as classy as marble… a brilliant lift to kick off proceedings. The album is pencilled for 2012.
2 Computer Magic « Ex Believer »
Computer Magic is a 21 year old American girl who writes music in her bedroom to escape school's hell. A nice song… and we don't even know what she looks like! " (no "")
3 Cast Of Cheers « Goose »
Already popular in Northern Ireland and still growing, these guys have released an acclaimed album only available as free download (kind or what?). The axe played the way Gildas likes it, for the rebellious seventeen year olds out there.
4 Housse de Racket « Roman » (Oliver remix)
They've just released their ace new album on Kitsuné, and write musically stimulating songs with cryptic lyrics. Remixed by L.A. hot-shots Oliver – spearheading the new US electrofunk scene – 'Roman' turns into a beautiful pop gem that sounds stylishly modern despite nostalgic 80s overtones.
5  Mark Ronson & the Business Intl « Record Collection 2012 » (Plastic Plates remix)
Complete with the unmistakable vocals of NY luminary MNDR  (as in 'Bang Bang Bang'), this song makes you feel like taking a drive in a convertible around the Bay of Naples with guys in moccasins and girls with headscarves at the back (please forget the easy analogy between song and car, we couldn't resist it).
6 White Shadow « Let's Go »
This track is by the Detroit producer behind 9 out of the 12 tracks on Gaga's new album. A promising start… He's already got a substantial amount of performances under his belt, like the time he played for candidate Obama in 2007. A weird hypnotic track that just goes 'bow wow wow' for 5 minutes.
7 The Magician feat Jeppe « I Don't Know What To Do » (Fabian remix – Magic edit)
The compilation takes a dancey turn with this song which features ex-Junior Senior vocalist. It should bring to life the glowing Keith Haring baby who sleeps in each of us. Although quite secretive about his identity (he claims he "materialised in a cloud of crystal stars and soft pink smoke"), we can at least reveal that The Magician is Belgian. Road-tested for you by Gildas and already creating a stir on the dancefloor.
8 Lemaitre « Excuse Me »
A Norwegian duo with specific energy, they are Phoenix and Daft Punk's spiritual and legitimate descendants – no mean feat we agree, yet they are beautiful children. Lemaitre's music is pop and has a strong bite, nice breaks and post-disco fittings.
9 Juveniles « We Are Young »
An off-the-hook trio from Rennes in Brittany of which you could say their cold, synthetic songs have soaked up Manchester's influence. Hotly tipped by Jean François Perrier from Saint Brieuc – AKA Grand Marnier, Yelle's other half.
10 Theme Park « Milk » (Plaintext Kitsuné mix)
A remix only for Kitsuné. This lot are well good. Two twins and two friends. Makes you wanna be 16, play the guitar with your mates in a garage and look like the kids in Steven Spielberg's movies before 1982. The kind of track that would make you feel your BMX's going to take off when listened to on headphones… They're going to make a racket on the festival circuit.
11 New Navy « Zimbabwe »
An efficient tune with fast African guitar accents from Australia's latest hopefuls. This band could go a long way in no time. Perfect ballad to make out to.
12 Man Without Country « Closet Anonymous »
The intro, just the intro. And straight away the vox, magnificent. Great lyrics, heart-felt and personal. Produced in a bedroom and yet a diamond brooch of a song to offer to your lover. If their PR's good, they'll be massive.
13 Trophy Wife « Surfacing »
What a beautiful song, carefree and that. Just like calling at Portofino or spending the afternoon on a fabulous yacht opposite Taormina. Or watching the sunrise in Syracuse. Or an endless day in the Hamptons. Just like a luxurious holiday memory to put it simply.
14 Tesla Boy « In Your Eyes » (radio edit)
And for the first time on Kitsuné, drum rolls, a Rrrrrrussian band! Tesla Boy tours the Eastern Europe festivals and is appreciated on the blogosphere. Pop music with sprinkles of electro and eurodisco. No irony here, they're on the money.
15 Heartsrevolution « Teenage Teardrops » (Pyramid remix)
French producer Pyramid won the Heartsrevolution flash remix contest. A kind of cathedral-esque and intimate mix at the same time, we didn't know it was possible either… Hey, he didn't win for nothing!
Kitsuné Maison 12 The Good Fun Issue – Out November 14th
httpv://www.youtube.com/watch?feature=player_embedded&v=pp0exbXyCbg
Check out the video for the new Juveniles single 'We are Young'