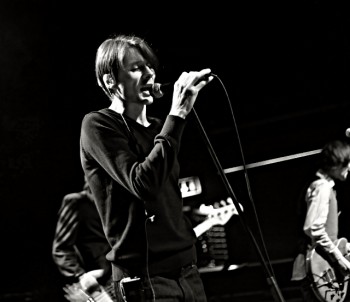 – CLUB ACADEMY, MANCHESTER –
I'm not sure what to expect tonight as I follow the flow of thirty or forty-somethings down into the basement of the university. I've seen Brett Anderson peacock strutting across most of the stages on this university campus, but this is perhaps one of its more cramped gig spaces.
The last of his gigs for me was the brilliant piano performance at the Royal Northern College of Music when Wilderness was released in 2008.  But, then my interest in his solo material began to wane.  Possibly, because the novelty of solo material from someone who was once a bit of a hero, began to dissolve when I found I couldn't really get in to the tunes.  They seemed a bit bland.
And, judging by the diminishing venue sizes for these gigs, I'm probably not the only one who feels like this.  A spate of large, successful Suede reunion gigs over the past year seems to have done little in re-igniting interest.  But, this isn't Suede.
The place is fairly packed by the time Anderson takes the stage, and I'm surprised at how tall the crowd is. It's composed mainly of men, though there could very well be a fair few female fans, you just wouldn't be able to see them. Even I was having trouble seeing the stage where I can usually see quite comfortably over the tops of heads.
The set, like the new album, Black Rainbows, opens with 'Unsung' and he's straight into the swagger and intensity we're all familiar with.  But following 'Wheatfields' from Slow Attack it almost feels like there's still something missing.
But something happens around the fourth song, 'Actors', also from the new album, and some brilliant guitar riffs and sounds begin to make themselves known.  The set just begins to sound a lot better and seems somehow to be getting louder as Anderson gets sweatier and the cum faces of the bassist and drummer become permanent fixtures.
The years don't seem to have cooled Anderson much as he powers through the whole Black Rainbows album with an energy that would make musicians half his age feel ashamed, and I'm reminded of what a brilliant front man he is.
The crowd are clearly impressed and Anderson struts around grinning coolly at the adulation between songs. And a female voice screams: "Get your shirt off, Brett."
Unlike past shows, he's not doing Suede covers tonight. But unlike past shows, he's now got four solo albums under his belt, so, why should he?  He barely even makes room for songs from his debut and Wilderness, cramming fifteen songs into an hour.
Then, there's the obligatory encore.  Following the "last song", 'Brittle Heart', they disappear from view, forgetting to hide the crewmember that came out immediately to tune up the instruments.  You're not fooling anyone, Anderson!  They played another three tunes, including an interesting, full-band treatment of 'A Different Place', and a noisy, chaotic finale in the form of 'Funeral Mantra' from Wilderness.
It felt like a very 'rock'n'roll' performance and I was a lot more impressed than I thought I'd be.  And granted, generally music sounds more powerful live, but there were nuances in the songs that became more apparent when heard live. I think those nuances may have implanted themselves in my mind sufficiently to stay there well beyond the show.   I'm also thinking I will give those albums another go.