– THE CLUNY/THE STAR & SHADOW CINEMA, NEWCASTLE-UPON-TYNE –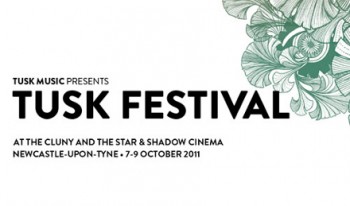 This is my first review since June so forgive me if it is even worse than my previous efforts. Having missed some great gigs this summer / autumn (in particular Moon Wiring Club at the Dog and Partridge in Bolton) I have launched myself back in to the world of live music with a naughty weekend away in Newcastle.
The Tusk Festival is not to be missed – it's a festival of the unclassifiable, the obscure and the esoteric put on by the Newcastle based promoter / label of the same name. Some of the artists playing at the festival will also be going on a follow up tour and will stop at Islington Mill on 12th October, but I am still writing this on the 12th. So sorry if you missed that, but you might still want to read on to find out about the weird and wonderful converging on our neighbouring city to the north.
FRIDAY:
Finally navigating my way out of the City Centre and towards Byker Bridge I reach The Cluny, which is sort of like Newcastle's Islington Mill (although nothing will compare to the dirty white stage and pillars of The Mill). It's all a-buzz with activity and expectation, but the first two acts don't really hit the spot for me. Foot Hair seem to be mining a similar path to a number of other groups I have seen over the last few years, fairly undistinguished US-alt-music plus provoking front-man in a David Yow / GG Allin style. But they are Newcastle based and they seem to be pretty well-received so I will put that one down to me not properly appreciating it all rather than anything wrong with Foot Hair. Pigeons similarly seem a bit anonymous; nothing really sticks over the course of their set, although lead singer and guitarist Wednesday Knudsen does have an undeniably lovely voice.
The first performance that impresses is by French artists Vincent Epplay and Samon Takahashi who are playing for only the second time their duo for EMS Synthi AKS and Janotron (a type of homemade analog synth apparently). It's improvised, it's frequently harsh, and it seems the pair are playing in opposition to each other, but it sounds extraordinary and it elicits an ecstatic reaction from the audience.
From the discord of Epplay and Takahashi we move into the ambient reverberations of Liz Harris as Grouper. But even though this set is pretty quiet (so quiet that even near the stage and I can hear a few annoying gig-talkers at the bar) it feels overwhelming when you hear this music live. The set draws mostly from her more tuneful 'AIA: Alien Observer' LP release from this year (and not so much from its sister LP, the more noise based 'AIA: Dream Loss') and the tracks 'Vapour Trails' and the closing 'Come Softly' are particularly lovely. This will sound stupid but it's one of those gigs where you feel like you've actually been picked up and transposed somewhere else entirely, you stop noticing your surroundings before it all suddenly drifts to a stop and you realise that you are still stood in the back hall of a bar in Newcastle. Such is the effect of music….
To break all this dreaminess the headliner for Friday is former Harry Pussy frontman Bill Orcutt. Now Bill doesn't mess about and his set lasts for about 25 minutes, but it's packed with his rough hewn guitar abruptions and vocal shrieks and calls, it's sort of smacked-about-a-bit-guitar-soli style, it's a bit delta blues, and a bit Derek Bailey, but it's totally engaging. The sounds just seem to impulsively spill out of Orcutt which are discordant and unsettling but weirdly pretty affecting too. You can't really grasp any kind of structure to the set, but I don't see why there should be one. Just take it for what it is, a really talented chap playing for a little bit, the understatement (especially from a headliner) is actually quite refreshing.
SATURDAY AFTERNOON: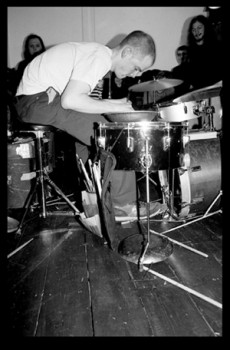 Saturday is a full day packed with treats and I am there for kick off in the early afternoon at the Star and Shadow cinema just up the road from The Cluny. Newcastle's own Bong kick off proceedings with their doomy, spacey drone metal. Bong don't seem to be up there with contemporaries doing similar things but on the evidence of this all too brief set they should be. They are excellent at dynamics, layering the riffs and drumming until it all takes you by surprise and this unexpected momentum has formed which then just doesn't let up.
No.1 drummer in the world Chris Corsano is up next paired with Belgian visual artist, free noise musician and Ultra Eczema label boss Dennis Tyfus. Tyfus is covered in tattoos of owls and the noises he elicits from his bank of cassettes patched and processed through a synth do indeed sound like birds of prey. For me though Corsano could play with anyone and I would find something to like (i.e. his drumming), but this is a neat set and it is always interesting to hear Corsano in another new context.
Chris Forsyth and The Paranoid Cat Band are on next but are a bit of a fall to earth following Corsano and Tyfus. Although he seems to have plenty of plaudits, to my ears Forsyth's music sounds like jam-band rock with some vaguely odd soloing over the top. I like other stuff that seems to float in the same realm as this, but this just seems quite ordinary and unassuming. The same cannot be said for John Duncan, whose sound art piece which includes dialogue over the throbbing low notes and eerie field recordings played over four separate speakers is genuinely quite scary, like a horror movie in audio. This piece clearly has much greater significance than I am giving it, but Duncan is an artist who I have only been exposed to via Tusk so I will only comment as a complete novice.
Finally on Saturday day time is Rhys Chatham with 'Guitar Trio' – which actually includes nine guitarists, bass player and drummer drawn from other Tusk performers or people drafted in specially. I get all the gen on the theory and context behind 'Guitar Trio' at a lecture Chatham holds the following day, but needless to say the performance is remarkable, split into two pieces both with only one note played but distinguished by the drummer being restricted to hi-hat only in the first piece, and given free rein with the drums in the second. I saw Guitar Trio earlier this year in Salford and on second viewing it now seems to me that this is one of those gigs which cannot fail to leave you a bit taken aback. The sheer scope and scale of the joyful sound with all these musicians yet just one note, it is truly an original and something that Chatham is thankfully continuing to perform.
SATURDAY NIGHT: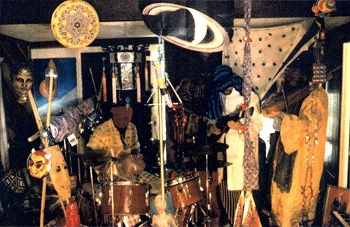 A break for tea (at The Cluny – very nice) and we're back into it with The Long Lonesome Go, a drums/bass/keyboards trio who make some pleasing improvised 70's type synth-rock in a Goblin style. It is nothing if not really quite enjoyable. Purling Hiss follow and I am sure in a different context I would think their grunge sound is good fun and enjoy them, but at Tusk they sort of stand out for being fairly ordinary.
A rare show from US synth artist Daryl Groetsch as Pulse Emitter fills the room with industrial analog signals and drifts that make the place sound less like a pub and more like a factory. Like a lot of the other artists using modular synths over the weekend the emphasis seems to be on creating discomfort in sound, with Pulse Emitter being one of the most brutal yet strangely beautiful of the lot.
The previous night's dynamics are replicated at almost the exact same point in tonight's bill, as Pulse Emitter makes way for the delicate psych-drone of French duo Natural Snow Buildings. They are particularly enigmatic so this is a super rare appearance (only their second UK show) making it extra special and they elicit a similar response to that of Grouper, just rapt attention for 40 odd minutes. With just two guitars (one frequently played by Solange Gularte with a cello bow) and the hushed vocals of Mehdi Ameziane, the music is hypnotising, weaving a gorgeous flowing hum occasionally studded with petite folky meanderings. I really can't rate it highly enough and with their recorded works standing as significantly more extensive that of their live shows, I encourage further investigation by all.
Closing tonight's bill is living legend Alan Bishop in his Alvarius B guise. As a Sun City Girl Bishop's reputation precedes him on that basis alone, but this would be to overlook the excellent musical creations when playing solo. His most recent album 'Baroque Primitiva' is filled with the gentlest of music, it is truly pretty sounding and almost a companion piece to the equally serene final Sun City Girls LP 'Funeral Mariachi'.
If anyone has come with any expectations of what tonight will entail based on Bishop's most recent recorded work however they are making a big mistake. Tonight Alvarius B is in caustic mood, and the set could almost be mistaken at points for an alternative comedian. This isn't to say it isn't frequently funny (if often wrong), but Bishop seems to have a particular thing about challenging perceived notions of political correctness and is well known for provoking audiences. Aside from this we get some messed-up cover versions ('Raindrops Keep Falling On My Head') and stone-cold classics from the Sun City Girls and his solo catalogue including 'Cooking With Satan'; 'Soft Fragile Egg Shell Minds'; and 'Missy Undertaker. It is a singular performance and because it's so rare to see Bishop in the UK you can't really review it objectively. As a longstanding fan I will just say how happy I was to be in attendance.
SUNDAY: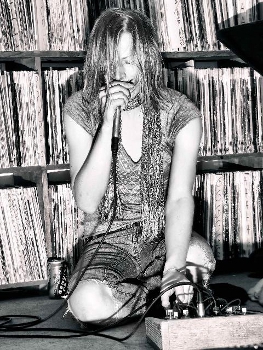 Back to the Star and Shadow for the final day and we are eased in gently with Cath and Phil Tyler whose traditional folk is sparse with just Cath's plaintive voice underpinned by finger-picked guitar and banjo. Their warm approach to performance and audience engagement is really charming and they are the perfect opener to today's proceedings. This relative calm comes to an end with the arrival of The Hunter Gracchus, who famously caused a bit of a scene when supporting Grinderman, and make a fantastic noise in a drone-eastern-folk vein. It is one long intense jam, but I sort of expected that – The HG has a definite style which makes me wonder why they are frequently referred to as improv. We're back in the Americana country following this with Hiss Golden Messenger accompanied by Bolton's own Rick Tomlinson of Voice of the Seven Thunders. I don't get the whole male-solo gun-slinger with a guitar thing and anyone termed 'alt-country' makes me shudder, so at this point I perused the merch stalls and got a drink…which was nice.
Another short set but one of the most interesting of the weekend is performed by Jessica Rylan, sound artist and electronic musician who designs and constructs modular analog synthesizers. And boy does Rylan shreds those electronic circuits, manipulating sound as well as her own voice, it is so intense it's almost a relief that the set is quite brief. I don't know who is happier following the performance as the crowd erupt and Rylan gleefully hops round the stage. Calls for more are met with a funny little acapella ditty, it's weird but it works.
The mystery special guests B.O.C. are revealed to be a power-trio of Bishop-Orcutt-Corsano, which I reckon most people either knew or worked out previously – but it is still pretty cool to see them all on stage together. And what materializes is one of the most joyfully raucous rackets ever, a punky-improv marvel where everything just crashes together and is propelled along by the momentum created by B.O.C. just ripping on their instruments. At the risk of appearing a bit sad, for that half an hour I look out and see a mob of smiling faces just basking in glorious life-affirming noise and I can't deny I have a big cheesy grin myself.
The amazing thing about Tusk is it doesn't even finish there, but it very nearly does….Hype Williams' moodily glazed over synths underlain with deep dubby rhythms blows the power and plunges the venue into darkness whilst the duo otherwise known as Dean Blunt and Inga Copeland soundcheck. After a delayed start, the set gets 10 minutes in before elements of the sound give way again and Hype Williams exit the stage – show over. Convinced to return only to have the sound go a third time a few minutes later it looks like this just isn't going to happen…The fact that Hype Williams manage to cause this is sort of testament to the power of their music, and, despite clear frustrations, the duo carry on. Even a set with all these disruptions is totally worth it though, as the audience is blinded by constant strobe light, the music is uniquely fantastic, especially should-be-hits 'Rise Up' and 'Your Girl Smells Chung When She Wears Dior'. The tension created by the technical problems seems to almost add to the menacing mood of the set, and Hype Williams are the perfect choice to provide a full stop to proceedings.
I don't know what was best this weekend. It seems like with the B.O.C. performance being so unique that it should really be that, but the strobes of Hype Williams are still flashing when I close my eyes, and the graceful effortlessness of Natural Snow Buildings and Grouper still echoes in my head. Then there was the sheer sonic attack of the modular synth crew (Jessica Rylan, Pulse Emitter, and Vincent Epplay and Samon Takahashi) and the joyful excess of 'Guitar Trio'….
So I don't know is the answer, as a whole the weekend was pretty astounding, you will never like everything at a festival and at this festival you would be lying or mad to say you did. Tusk was pitched perfectly though and we need more events like this, a real celebration of the unconventional in what I suppose is a fairly unconventional setting (i.e. NOT London but beautiful Newcastle). We have our own fantastic promoters in Manchester putting on similarly obscure and overlooked artists, so there is really no excuse why we shouldn't have our own Tusk….maybe someone could sort it out.